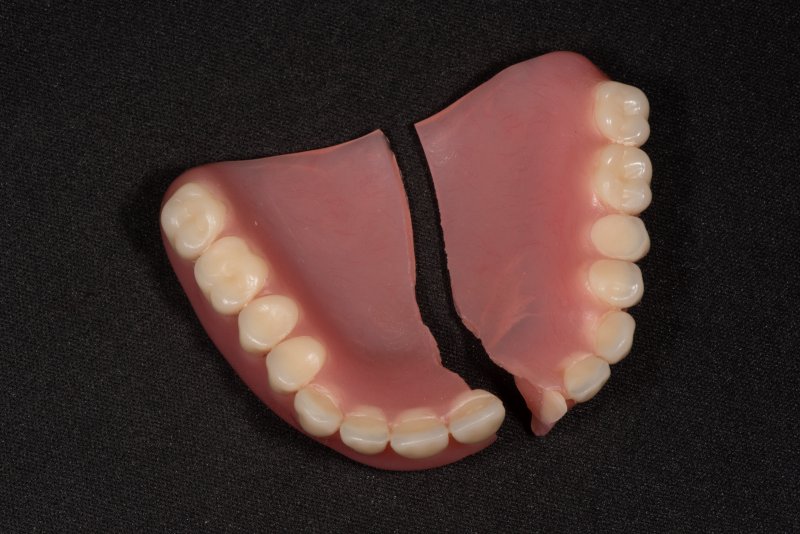 Some people think that dental emergencies have to involve pain, but the truth is that there are many oral health issues that should be dealt with as soon as possible. This includes broken dentures. If your oral appliance has been damaged, you're going to have a lot of trouble eating, speaking, and performing everyday tasks. Here's what to do if your dentures are cracked or shattered.
What Do I Do If I Break My Dentures?
The first thing to do if your dentures break is to put them in a safe place. Make sure you don't lose them or damage them further, as there's still a possibility that your prosthesis could be repaired. Once your dentures are secure, call your dentist. They'll be able to schedule you for an appointment as soon as possible, usually within a day. They'll also give you some instructions as to what you should do until you get to the office.
If it's after office hours, you should leave a voicemail with the front desk. Some phone lines have a number that will let you reach an on-call dentist, or that connects you to an answering service. Finally, if you can't get a hold of anyone, most dentists have instructions about what to do in the case of a dental emergency on their website.
What Can Be Done for My Dentures?
The first thing your dentist will do is to determine whether your prosthesis can be repaired. For mild breaks, it could be possible to repair it within a single visit. For more severe damage, the dentures might need to be sent to the lab to be completely fixed. Ultimately, you may have to replace your oral appliance entirely.
How Do I Prevent This Dental Emergency?
Dentures usually don't break all at once. Dental emergencies are often the result of wear and tear that has built up over time. If you've had your dentures for a while, be vigilant for any signs of failure. You should also check that your dentures still fit the way they're supposed to. Bone loss is common in people missing several teeth, and that can cause your dentures to become loose. A poorly fitting prosthetic is at greater risk for a dental emergency, so if yours is slipping you should look into getting it replaced. Finally, frequent checkups will give your dentist an opportunity to find problems before they turn into full-blown emergencies.
Your dentures are sturdy enough to bite, chew, and speak every single day. That said, talking to your dentist occasionally about the state of your dentures can go a long way toward preventing oral emergencies.
About Our Practice
At Fairfax Family Dentistry, we understand that every patient is unique. We also know that your oral health isn't just about your teeth, which is why we take a whole-body approach to dental care. We have been serving our community for over 25 years, so we are prepared to deal with any issue at any time. If you're in pain, we have same-day appointments and a dentist on-call 24 hours a day. If you have any questions about what to do in a dental emergency, we can be reached at our website or by phone at (703) 560-6301.
Comments Off

on Are Broken Dentures a Dental Emergency?