Emergency Dentistry – Fairfax, VA
Repairing Your Smile & Easing Your Pain
You can't completely avoid a dental emergency — but you can help yourself be more prepared by knowing what to do if one happens to you or a loved one. Your dentist in Fairfax is happy to help patients get out of pain fast in the event of a dental emergency. If you are experiencing a toothache, a broken tooth, a knocked-out tooth, or anything else that just doesn't feel quite right in your mouth, do not hesitate to get in touch with Fairfax Dental Group to receive immediate emergency dentist in Fairfax, VA.
How to Handle Common Dental Emergencies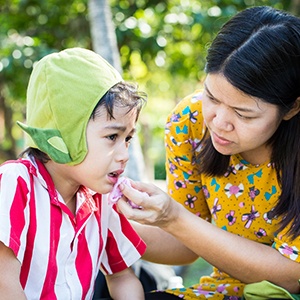 Even if you are unsure whether or not your situation is an emergency, go ahead and give your emergency dentist in Fairfax a call, and we'll be happy to let you know what you should do next. However, if your injuries include a broken bone, or if you can't stop bleeding after 15 minutes, be sure to head straight to your local emergency room first! Here are some tips to help ease your pain while you're working on getting to our dental office.
Toothaches
Rinse your mouth with lukewarm saltwater and gently floss around the affected area to remove any debris that could be lodged between your teeth. If you're still in pain, it's likely caused by a tooth infection. This requires urgent attention from your emergency dentist in Fairfax, but until you get to our dental office, you can take over-the-counter pain medication like ibuprofen to ease your discomfort.
Chipped/Broken Tooth
You can rinse your mouth with lukewarm saltwater to clean the area and try to pick up as many pieces of your damaged teeth as possible to bring with you to your appointment. If the damage to your tooth has created a sharp edge, you can place a piece of sugar-free gum over it to keep it from cutting or irritating your oral tissues.
Knocked-Out Tooth
Find your tooth and handle it by only touching the biting surface, not the root! You can rinse off any dirt or debris but be sure to not scrub any of the tissue off of the root area. To preserve it, place it in a sealed container of milk or saltwater and bring it to your appointment. Try to get to our dental office within an hour of the incident so we can have a better chance of replanting the tooth.
Lost Filling/Crown
It's important to visit our dental office as soon as you notice that a restoration is damaged or missing. Without timely attention, this seemingly small problem can turn into something much more serious. If you can recover your crown or filling, you can try to place it back on your tooth using a small amount of toothpaste or denture adhesive.
How to Prevent Dental Emergencies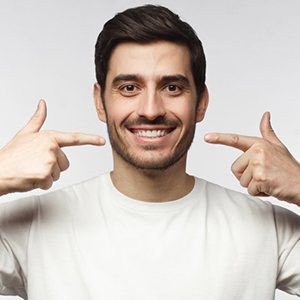 There are a few easy steps you can take to keep dental emergencies from ruining your day. Even though you can't completely avoid them, being prepared and taking care of your mouth goes a long way. Here are some tips to keep your teeth and gums in good condition:
Wear a mouthguard while playing sports or if you grind your teeth at night.
Don't use your teeth to open packaging or chew on hard items.
Keep up with daily brushing and flossing.
Avoid eating foods that are chewy, sticky, and hard.
Schedule your semi-annual checkups and cleanings.
The Cost of Treating Dental Emergencies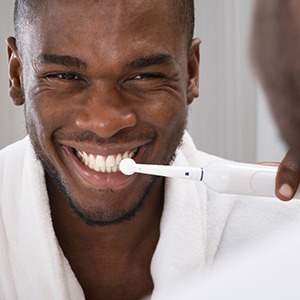 Depending on the damage that your mouth has sustained, the cost of your emergency visit could vary. We'll inform you of all of the treatment options available to solve your issue and ease your pain, and our team will be more than happy to help you get in touch with your dental insurance company to find out if the procedure is covered. We also offer additional flexible financing through CareCredit!
Dental Emergency Frequently Asked Questions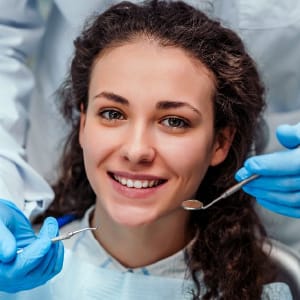 If you're like most people, chances are you don't know off the top of your head what to do in a dental emergency. Being confused during an emergency can only add to your panic and make your whole situation worse. For this reason, we've decided to answer some of our most frequently asked questions about emergency dentistry for your benefit down below. If you still have an emergency question that you don't see answered on this page, just give us a call and ask!
What If I Have a Dental Emergency While Out of Town?
First things first, try not to panic. Use the tips listed above to handle the situation until you can find a dentist in the area to treat your immediate problem. That way you can still enjoy your vacation without oral pain. Once that has been squared away, call your emergency dentist in Fairfax to schedule an appointment for when you get back in town. At that appointment, we can determine whether any future treatment is necessary.
Should I Go to the Emergency Room?
While the emergency room staff are trained medical professionals, you should only see them for a dental emergency as a last resort. This is because they often don't possess the same specialized training as our dentists. Best case scenario, they'll put you on painkillers or antibiotics to treat the problem until you can visit us. You're much better off calling us first if you're dealing with dental pain. Only visit the emergency room if you have a broken or dislocated jaw, swelling that obstructs your airway, or intense bleeding that doesn't subside after 15 minutes.
My Toothache Suddenly Went Away. Do I Still Need to See the Dentist?
Yes. While many people think occasional tooth pain is normal, the truth is that it's never a good sign. It could be symptomatic of an underlying problem, like decay or gum disease. If you were suffering through a severe toothache that suddenly faded away, it could mean that the nerve inside the tooth has "died." This usually indicates an infection deep within the tooth that could quickly spread to other teeth and bone if not treated in a timely manner. Because of this, you should absolutely contact us if you have a toothache that goes away.
How Long Should I Wait to Receive Emergency Treatment?
Ideally, you would call us as soon as you start to experience signs of an emergency, like pain. Putting off treatment can only cause your problem to worsen in the long run. For example, a small fracture in your tooth could spread to the center, where the nerves are located, and result in intense pain, not to mention creating an easy pathway for bacteria to access the inside of the tooth. Contact us the moment you feel like something may be wrong with your tooth, and we'll do out utmost to see you as soon as possible.