Dental Implant-Retained Dentures – Fairfax, VA
An Attractive Smile Without Compromising on Functionality
Does it seem like it's impossible to find a suitable way to replace your missing teeth? If so, it's time to rediscover your sense of hope. That's because at Fairfax Dental Group, we provide a solution that will restore your ability to chew food, smile with confidence and enjoy several other benefits. Contact us today to request a visit with Dr. Ayati so you can finally have your missing teeth replaced from the roots up with dental implant-retained dentures in Fairfax, VA!
How Do Dental Implant-Retained Dentures Work?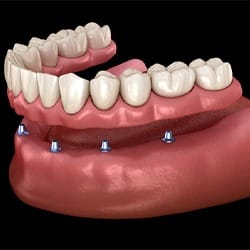 As opposed to traditional dentures that rely on the natural suction created inside the mouth and dental adhesive to stay in place, implant-retained dentures in Fairfax utilize a series of strategically-placed titanium, cylinder-shaped posts and abutments that are inserted along each arch. They attach to snaps or a bar placed on the underside of the dentures to create a sure fit.
Therefore, patients don't have to worry about their new teeth slipping (which can lead to gum irritation), incurring premature wear or completely dislodging. Instead, the dentures are securely held in place, which allows them to perform and look like normal teeth.
Am I a Candidate for Dental Implant-Retained Dentures?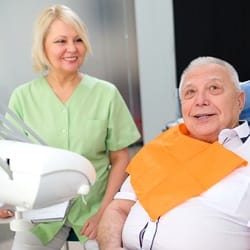 One of the common myths about dental implant insertion is that it's only designated for older adults. The reality, however, is that it's a viable option for patients of any age who have suffered complete tooth loss. Here are the basic factors we consider at Fairfax Dental Group when determining eligibility for dental implant placement:
The health of your gums
The condition of your overall health
The amount of healthy jawbone that remains
Whether any remaining teeth need to be extracted to allow for a full mouth reconstruction
Because we take such a careful approach, dental implants in Fairfax have a 95% success rate.
The Dental Implant-Retained Dentures Procedure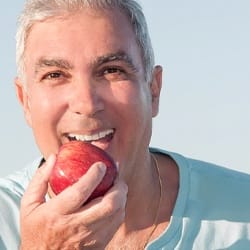 One of the many perks of receiving implant-retained dentures at Fairfax Dental Group is that we can perform the entire procedure at our dental office. After we've determined that you're the right candidate for the procedure, Dr. Ayati will develop a custom plan for replacing your teeth. The procedure starts with the placement of the dental implants, followed by the addition of abutments after you've healed sufficiently. We'll then capture digital bite impressions that will be used to create the implant-retained dentures at an in-network lab. Once the appliances arrive, we'll place them to leave you with a fully reconstructed smile.
Benefits of Combining Dentures and Dental Implants
With the placement of implant-retained dentures, you're able to benefit from the smile aesthetics of prosthetic teeth along with the security provided by implant insertion. Here are some of the specific perks you stand to gain:
Dentures are permanently held in place
Restored ability to maintain a normal diet
No gum irritation from the dentures slipping
Easier maintenance by not having to remove them at night
Creates a more natural-looking smile by attaching beneath the gum line
A longer-lasting form of tooth replacement than the traditional method
You've been without your teeth for long enough. Now's the time to do something about it. Contact us today to request an appointment with Dr. Ayati!