iTero Scanner – Fairfax, VA
Precise & Comfortable Digital Impressions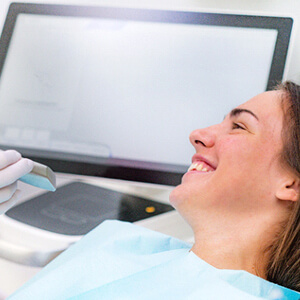 For generations, dentists had extremely limited options when it came to collecting impressions of their patients' teeth. The manual impression process was — and still is — somewhat slow and uncomfortable. It isn't even always accurate. Fortunately, our practice has upgraded to digital impressions with the iTero scanner in Fairfax. This remarkable piece of technology provides highly precise impressions that make your treatment as comfortable and efficient as possible.
What Is the iTero Scanner?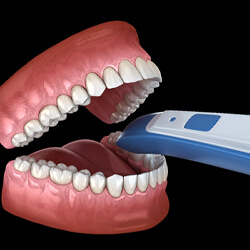 The iTero scanner is a machine that uses a small, wand-like instrument to collect digital impressions. We simply move the wand around a patient's mouth, and it rapidly captures thousands of frames each second. The iTero software then organizes those images into a highly detailed, 3D impression of the teeth that were just scanned.
We can use the iTero machine in practically any instance where we would otherwise have to use a manual impression. For example, we can use it when designing bridges, crowns, or other restorations. The technology is particularly noteworthy for how well it integrates with the process for Invisalign in Fairfax. We can use the iTero software to effortlessly share data with the folks at the Invisalign laboratory. Plus, the impressions are so accurate that there is almost no chance that Invisalign will reject them.
Benefits of the iTero Scanner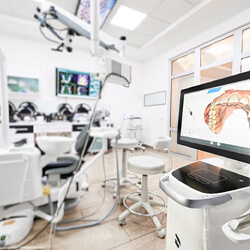 Here are just a few of the most outstanding benefits of the iTero scanner:
No goop. Many patients love that the iTero gives them freedom from the goopy discomfort of manual impressions.
Compared to old-fashioned manual impressions, the iTero scanner can shorten total appointment length by 20 minutes or more.
Low risk of gagging. The small size of the iTero wand makes the scanning process more comfortable for patients with a strong gag reflex.
No powder necessary. Some digital impression scanners require that the teeth be coated with a powder, but that is not necessary with iTero.
Get it right the first time. It is rarely necessary to re-take digital impressions due to inaccuracies.
See your results. With the iTero machine's software, we can give you a preview of your Invisalign results.
Eco-friendly. Because we can create and share impressions digitally, we can create less packing, shipping, and dental waste.
Learn More
Are you ready to discover how the iTero scanner could change the way you think about dental impressions? We would be happy to tell you more about the technology. Contact us today to ask questions or get your next appointment on the books.