Sleep Apnea Therapy – Fairfax, VA
Stop Snoring & Start Sleeping Deeply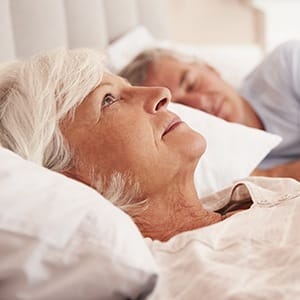 Millions of Americans suffer from sleep apnea and its exhausting side effects, which include chronic fatigue, loud snoring, and difficulty focusing on everyday tasks. In fact, it is estimated that 20 million people suffer from this condition, many of which go without any treatment. If you suffer from poor sleep combined with chronic snoring, chances are good that you could benefit from snoring prevention and sleep apnea therapy. As an expert in all things related to your mouth, your dentist is especially qualified to provide this treatment so you can achieve the high-quality rest you need to succeed with sleep apnea therapy in Fairfax, VA!
Why Sleep Apnea Occurs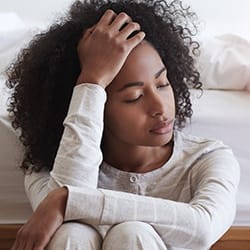 The most common form of sleep apnea is called obstructive sleep apnea, which occurs when the soft and hard oral tissues collapse and block the proper flow of air through the throat. Loud, chronic snoring occurs as a result of this blockage — and, without the oxygen it needs to survive, the brain sends out an emergency signal to wake the body up and resume breathing. Patients with obstructive sleep apnea may have their sleep interrupted hundreds of times a night.
The most common cause of obstructive sleep apnea is being overweight or obese, while factors like age, alcohol use, and certain medications can also cause or aggravate the effects of sleep apnea.
Options for Sleep Apnea Therapy
The treatment for sleep apnea has traditionally relied on a Continuous Positive Airway Pressure (CPAP) machine, which requires the patient to wear a small nasal mask during sleep. Air is pushed into the lungs to keep the throat clear and prevent interruptions throughout the night. Unfortunately, many find this solution to be more distracting than the original symptoms of sleep apnea. When CPAP therapy proves ineffective, your dentist may recommend a customized sleep apnea appliance. Fixed and adjustable varieties are available, depending on your unique needs and preferences.
---
TAP® 3 (Thornton Adjustable Positioner) Sleep Apnea Appliance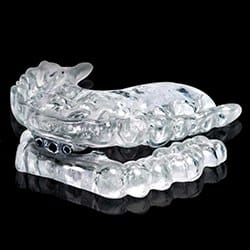 This option is small, comfortable, and fits over your teeth in the same way as an athletic sportsguard. It works by bringing the jaw forward, holding it in place to prevent the collapse of the soft oral tissues. Because it is adjustable, the TAP 3 offers the best fit for many patients.
---
OASYS Sleep Apnea Appliance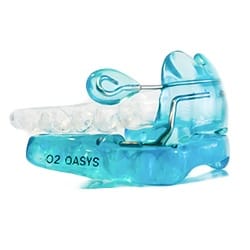 This option repositions the jawbone, opening up the airway to prevent the blockage that causes snoring and interrupted sleep.
---
Klearway Sleep Apnea Appliance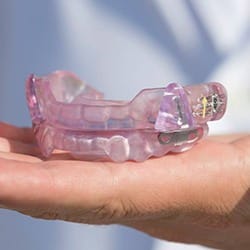 The Klearway Appliance is pliable when you run it under warm water, which means that you can easily adjust it to the particular dimensions of your mouth. It will move the jaw forward .25 millimeters at a time, gradually bringing it to the ideal position.
---
Herbst Telescopic Sleep Apnea Appliance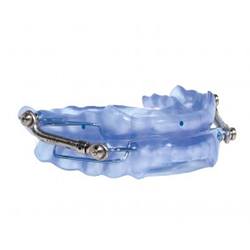 Best for patients with mild to moderate sleep apnea, this option is held in place using clasps and grips. You can even move your mouth up and down and side to side without having to remove the appliance.