Veneers – Fairfax, VA
Quickly Creating Gorgeous Smiles
Porcelain veneers in Fairfax, VA are a wonderful way to invest in yourself. This treatment can completely cover up the appearance of the teeth that show when you smile -- dramatically remaking your overall "look." Fairfax Dental Group is pleased to offer stunning veneers alongside our full list of cosmetic dentistry services. Below, find everything you need to know about porcelain veneers, including how they work, who they are for, and how to get started.
What Are Veneers?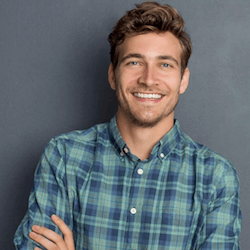 Porcelain/dental veneers (or just "veneers") are thin restorations that can be placed on the front side of the upper teeth in the front of your mouth. These teeth are the ones we also call the "social six," since they affect the appearance of your smile the most. Porcelain veneers are permanent restorations and cannot be removed except by your dentist. They are considered an irreversible treatment -- meaning once you have had them, you will always need something covering up your teeth.
What Can Veneers Fix?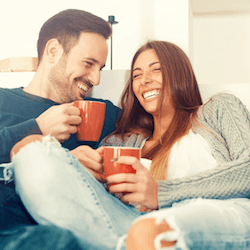 Porcelain veneers are a good option for teeth that are healthy overall but which suffer from aesthetic issues.
Some of the most common issues that veneers can solve include:
Broken or chipped teeth
Uneven or misshapen teeth
Slight gaps between teeth
Oddly textured teeth
Minor crowding of front teeth
Severely discolored teeth that have not responded to teeth whitening
How Are Veneers Placed?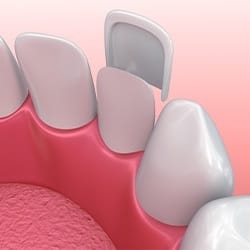 Veneers are placed over the course of two visits to our dental office. During the first appointment, your cosmetic dentist will put together your treatment plan and prepare the teeth to receive the new restorations. A small portion of enamel must be removed from the front side of each tooth. Once this has occurred, an impression or mold is made. Temporary veneers cover up the teeth for a period of one to two weeks while the permanent veneers are created in a separate lab.
Once the veneers are ready, you return to our dental office for the final appointment. This is when we take off the temporaries, check to make sure everything fits just right with the permanent ones, and place them securely onto the front of the teeth.
Considering the multitude of benefits they provide, it's a pretty short process to get veneers. Once it is complete, we know you will love your new smile!
How Do I Maintain My Veneers?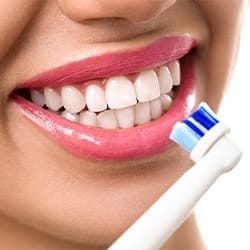 With proper care, veneers can last for up to 20 years. They will eventually need to be replaced due to natural wear and tear and changes in the structure of your mouth. To ensure that the veneers stay sturdy and functioning properly, keep the following tips in mind.
Brush and floss regularly and gently, using a soft-bristled brush and fluoride toothpaste.
Avoid aggressive tooth brushing, which can lead to gum recession that exposes the tooth enamel and/or tooth's root.
Avoid biting directly into hard or crunchy foods.
Visit your dentist regularly for a checkup and cleaning. Porcelain does not stain, so your veneers will stay the same shade of white for years to come -- and a routine polish will ensure they sparkle as well.
Understanding the Cost of Veneers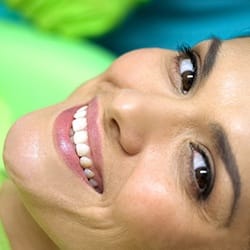 Veneers in Fairfax are a transformative treatment that can give you a Hollywood-ready look. Understandably, the many benefits of veneers come at a price that reflects their remarkably high quality. When you visit us for your consultation, we will be upfront with you about pricing for all the cosmetic services that you are eligible for. Then, you can make a well-informed decision about how to move forward with your smile makeover goals.
Cost vs. Cosmetic Dentistry: What's Right for Me?
We always aim to respect our patients' financial circumstances. That is why we offer a variety of cosmetic services at different price points.
Orthodontic treatments, such as Invisalign and traditional braces, can produce dramatic results. However, they can cost thousands of dollars, and their only purpose is to straighten teeth. They do not help to remove stains or reshape the teeth. They can also take several months to a year or longer to complete their work.
Teeth whitening. Whitening is a relatively inexpensive procedure, and it is perfect for many budget-conscious patients who have a degree of dental discoloration. However, it does not help to change the shape or position of teeth.
Cosmetic bonding. Bonding and porcelain veneers produce similar initial results, and bonding is relatively low-cost. However, it typically lasts just a few years and is best used for minor smile alterations on just one or two teeth.
Porcelain veneers. For many patients, veneers prove to be the ideal cosmetic treatment. They can change the color and shape of teeth. They are even able to disguise minor misalignment. Plus, they can last for well over a decade, and the treatment usually takes just a few appointments. Even though they are pricier than other aesthetic procedures, they offer a fantastic value! When you visit us for your consultation, we will give you an estimate for the price of your veneers based primarily on how many veneers you need to achieve your desired results.
How to Make Veneers Affordable
It is quite rare to find a dental insurance policy that covers veneers. That is because insurance focuses primarily on helping patients afford care that directly benefits their oral health. Veneers are an elective procedure that is largely about aesthetics.
However, just because your dental insurance may not cover veneers, that is no reason to assume that they are out of your financial reach. As your patient-focused cosmetic dentist in Fairfax, we offer resources to help you afford your dream smile:
Our Wellness Plan. For a reasonable annual fee, you can enjoy all necessary preventive care and a significant discount on most other services. If you pay for the entirety of your treatment upfront, you will enjoy a 15% discount. If you choose to finance your veneers, your discount will be 10%.
We are happy to accept financing through CareCredit. For eligible patients, CareCredit offers a variety of low-interest and no-interest payment plans.
Are you ready to learn how much veneers may cost for you and how you may be able to fit them into your budget? Contact us today to schedule your personalized consultation.
Frequently Asked Questions – Veneers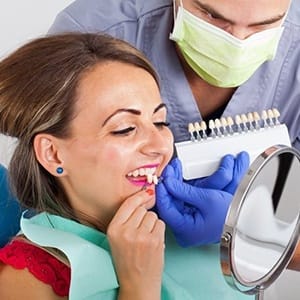 Porcelain veneers are one of our most popular cosmetic dentistry services, and it's not hard to see why. As an incredibly versatile treatment, it can address virtually any aesthetic imperfection that may lie within your smile. Since they are permanent, though, it's important for you to be knowledgeable about them before you undergo treatment. That's why we've included this FAQ section about veneers in Fairfax.
Does It Hurt to Get Veneers?
Before we prepare your teeth by shaving off some enamel, we'll administer a local anesthetic to the area. This ensures that you won't feel any pain during the procedure. After your permanent veneers are placed, you may experience some soreness for the next few days, depending on how many veneers you received. This is normal, and can be managed by taking an over-the-counter pain reliever like acetaminophen as needed.
Will Veneers Keep Me from Getting Cavities in Those Teeth?
While veneers address the cosmetic concerns of your teeth, they unfortunately don't protect against tooth decay. There is still an equal chance of getting cavities in teeth with veneers and teeth without veneers. For this reason, it's important to be proactive about your oral health. Brush and floss every day, and visit us for a checkup and cleaning at least twice a year.
Will My Veneers Look Natural?
There's a reason we make veneers out of dental porcelain; they have a remarkable ability to mimic the properties of tooth enamel. They even reflect light in the exact same way! When we're sending our data to the dental lab for them to craft your veneers, we take several aspects of your appearance into account, such as your skin tone, face shape, and the size, shape, and color of your surrounding teeth. Rest assured that no two veneers are exactly the same, and that yours will look like a perfectly natural part of your smile.
How Much Do Veneers Cost?
Veneers don't come with a fixed cost; the price depends on various factors, such as how many veneers you're receiving and whether your dental insurance will provide coverage. Most insurance companies don't cover veneers since they're often seen as a purely cosmetic treatment. In some cases, however, you may be eligible for up to 50% coverage. Our team will be more than happy to evaluate your benefits for you to determine your coverage.
What Happens If One of My Veneers Comes Off?
Although this is rare, it sometimes happens. First things first, try to remain calm and call our office right away. Do NOT attempt to reattach the veneers yourself using glue. Doing so could permanently damage the veneer and your tooth. We'll do our best to see you right away and alleviate the problem.
How Many Veneers Will I Need?
If you're struggling with a relatively minor dental imperfection, like a chipped tooth, then you may only need one veneer. With that said, many patients get anywhere from six to twelve to achieve the bright, balanced, flawless smile they're looking for. Don't worry – our Fairfax cosmetic dentist will help you decide how many veneers are best for you depending on your specific aesthetic concerns and smile goals.
Are Veneers Permanent?
Sadly, veneers are not permanent. However, they are one of the longest lasting cosmetic dental treatments! There have been several studies that found that the large majority of patients who care for their smiles enjoy theirs for 15+ years. To keep yours in pristine condition, consistently brush, floss, and rinse with mouthwash. Additionally, you should implement other important oral hygiene best practices, like getting a dental checkup and cleaning twice a year and not chewing on ice, pen caps, or your fingernails.
Will I Still Be Able to Drink Coffee with Veneers?
Yes! Unlike your natural teeth, veneers are made from porcelain and other stain-resistant materials. As a result, you won't have to worry about yellow stains quickly resurfacing. Of course, not all of your teeth will have veneers on them, which is why it's still important to use a straw and keep additives, like sugar, to a minimum.
How are Veneers Different Than Crowns?
Since veneers and dental crowns are both crafted from lifelike materials and can fix misshapen, chipped, and otherwise imperfect teeth, it's easy to see how they are confused for one another. The reality is that these two treatments are vastly different. To start, veneers only cover the front-facing surface of your teeth while dental crowns are a "cap" that covers them entirely. Another important distinction is that dental crowns are typically used as a restorative service while veneers are purely cosmetic. Of course, there are several other differences between the two, so don't hesitate to ask our team more during your consultation if you have any questions.
Is There Anyone Who Shouldn't Get Veneers?
Yes, there are some patients who aren't initially candidates for veneers. One example is patients with gum disease. Since the infection can negatively impact both the treatment process and the longevity of your results, it's important that we intervene with the necessary restorative care first. Similarly, we don't recommend getting veneers until after any existing cavities have been treated.
Is There Anything I Can't Eat with Veneers?
Since veneers are made from high-quality materials, they function very similarly to your natural teeth. Of course, even your natural teeth can get chipped, which is why we still recommend exercising caution with raw nuts, hard pretzels, and other crunchy foods. We also recommend not consuming sugary foods and beverages in excess since your teeth are still vulnerable to cavities.
Get in Touch Today!
If you are interested in improving the appearance of the teeth that show when you smile, we encourage you to get in touch with your cosmetic dentist in Fairfax right away. We can't wait to help you love your grin! Contact us today.