Brushing & Flossing Tips – Fairfax, VA
Use Proper Tooth Brushing & Flossing Techniques for Optimal Oral Health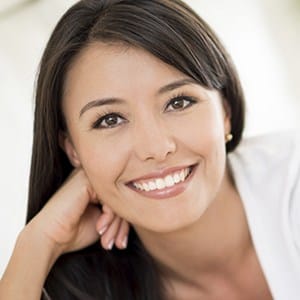 You learned how to brush and floss and probably haven't had a "brush up" on proper technique since then! If you could use a little reminder on how to thoroughly clean your teeth, that's what we are here for! By maintaining excellent brushing and flossing habits, you can prevent the buildup of plaque and tartar between your six-month checkups and cleanings with your Fairfax dentist, making your visits altogether much easier. Proper oral hygiene habits at home, using our tooth brushing and flossing tips for Fairfax, VA dental patients, can help to prevent tooth decay, gum disease, and they also help your teeth sparkle and keep your breath smelling fresh.
Below, we discuss why brushing and flossing is so important, and we have also listed some top tips to help you achieve a better clean whenever you brush and floss. Read them and take heed to have a happier, healthier smile that will last for a lifetime to come!
Importance of Cleaning your Teeth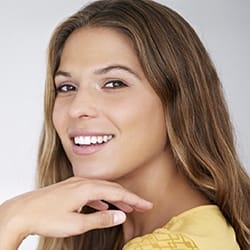 Dental caries, or cavities, affect people of all ages and stages of life. Children are at a higher risk of developing cavities between the ages 6 and 14 while their tooth enamel continues to develop. Adults who smoke or usually have a cavity every time they go to the dentist may be considered at a higher risk of tooth decay as well. Proper toothbrushing habits are especially important for these at-risk groups.
In addition to preventing cavities, oral hygiene also helps to keep the gums clear of the plaque and tartar buildup that causes gum disease. Gum disease can put you at a higher risk of developing a host of serious heart conditions, as well as tooth loss. Gum disease can usually be easily prevented with proper hygiene.
Tips for Tooth Brushing
People of all ages should brush their teeth for two minutes at least twice a day — but brushing after each meal is even better for your oral health and hygiene. You should brush your teeth in the morning when you wake up and before you go to bed at night (after your midnight snack). An electric toothbrush can help you to achieve a more thorough clean, but using this tool is not necessary for proper brushing. Many patients can remove plaque and prevent tartar buildup with the careful use of a manual toothbrush. Make sure you replace your toothbrush every three to four months or after you have been sick.
To brush your teeth properly, do the following:
Cover the toothbrush with a layer of fluoride toothpaste (any formula that has been approved by the American Dental Association)
Brush each quadrant of your mouth for 30 seconds each
Use small, gentle, circular motions
Brush over the chewing surfaces of the teeth with back and forth motions
Don't forget to brush your tongue, too!
Parents should brush their children's teeth until age 6, or about when they start tying their own shoes. Continue to monitor their habits until you are sure they are brushing properly.
Tips for Flossing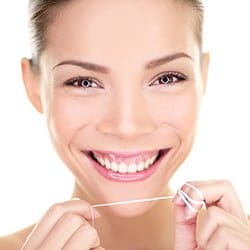 Many people have difficulty remembering to floss, so the first step in your flossing routine may be to simply develop the habit. To do so, leave the box of floss somewhere you are sure to see it at night, like right beside the faucet or your toothbrush. Remind yourself that flossing is crucial because it helps to remove food particles and bacteria that allow for the formation of tooth decay and gum disease.
For a better flossing technique, keep the following tips in mind:
Wrap a clean piece of floss (about 18 inches long) around your middle fingers
Leave a space about 2 to 3 inches to work with
Work this piece of floss gently between the teeth
Rub the floss along the sides of your teeth and around the base of the gums, too
Use a new area of floss between each tooth to avoid simply redistributing bacteria
Floss slowly and gently, making sure you do not force the floss too hard between the teeth