Sippy Cups – Fairfax, VA
Know the Potential Oral Health Risks of Sippy Cup Use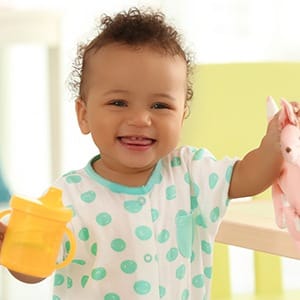 Sippy cups can provide significant help as children transition from using a bottle to a regular cup. Kids love them because they usually come in fun colors and shapes, and parents love them because they prevent spills and leaks. However, it is also widely known that the prolonged use of a sippy cup can be damaging to a child's developing teeth, especially when it comes to cavities. It can be tempting to let your little one use the sippy cup for a longer period of time than recommended, past the age of one, but we urge you to be careful with their usage and bottles as well. Keep reading to find out more about the potential risks of kids using sippy cups in Fairfax, VA, and the effect they can have on the health of your favorite little smile.
What Is Baby Bottle Tooth Decay?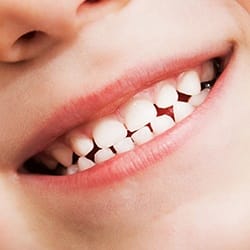 People of all ages can get cavities, including your baby or toddler. Babies and toddlers are at-risk of a special type of tooth decay known simply as "baby bottle tooth decay," which occurs when the sugars in milk and other beverages are allowed to linger on your child's teeth for too long. This phenomenon is accelerated by sippy cups and bottles, which encourage longer periods of drinking throughout the day. The effect is especially significant when the sippy cup or bottle is used to put the child to sleep.
To prevent tooth decay from occurring or to benefit from early detection, you should bring your little one in for regular visits to a children's dentist. It is recommended that children see a dentist for the first time around the time their first tooth erupts, or usually by the time of their first birthday. During this visit, we can check to make sure that their teeth are developing properly and answer any questions you may have about your child's oral health. We will also take this time to discuss the safe use of sippy cups and other toddlers' tools with you. Then, regular six-month checkups and cleanings should begin by the age of three.
Safe Use of Sippy Cups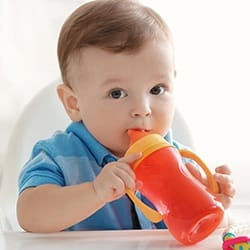 Using a sippy cup is helpful for many parents and children, but remember that they should not be used so casually. You may want to introduce a sippy cup around the time that your child can easily hold it — this usually occurs around six months of age. Discontinue the use of this cup once they are able to hold a regular cup, which is often around age one.
Keep these things in mind to ensure that your child learns to drink properly without damaging their developing tooth enamel:
Fill the sippy cup with water or low-sugar beverages only. Avoid beverages with added sugar or even sugary fruit juices.
Do not allow your child to drink from the cup all day long or go to bed with a sippy cup. This can allow sugars to linger on their teeth.
Clean your child's teeth and gums with a toothbrush twice a day or after mealtime.