Teeth Whitening – Fairfax, VA
Get a Brighter Smile You'll be Proud to Share
Professional teeth whitening is a wonderful way to rejuvenate your smile! Performed at home or in our dental office, we can brighten your teeth by up to EIGHT shades in as little as one visit if you choose in-office Zoom!. Or, a take-home Opalescence or Zoom! teeth Whitening kit can provide dramatic results over the course of just two weeks. Do not hesitate to talk to your cosmetic dentist about which option for teeth whitening in Fairfax, VA may be best for you!
How In-Office Zoom! Teeth Whitening Works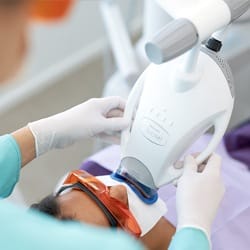 We'll start by placing a protective rubber dam in your mouth to keep your lips out of the way, and then we'll apply a thin layer of gel along your gums so the bleaching agent won't touch them. At this point, we'll paint the Zoom! whitening gel directly onto your teeth, and once this is done, we'll expose it to a low-UV light for about 15 minutes. This will heat up the gel slightly so it will break up stubborn stains even faster. We'll wipe off the gel, check your teeth, and then we'll repeat the process until we reach your desired level of whiteness. Typically, this can be accomplished in just 45 minutes.
Learn More About Zoom Teeth Whitening
How Take-Home Teeth Whitening Works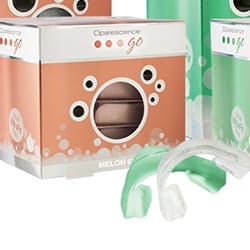 If you opt for our take-home option instead, we'll take an appointment to create custom-fitted mouth trays that are designed to keep our bleaching gel against your teeth. When you get home, all you'll need to do is wear the trays and gel together for about 20 minutes a day for two weeks to achieve optimal results. Most patients notice a difference after just one session!
Which whitening treatment is best for you? We would be happy to let you know. Unlike generic store-bought whitening treatments, our professional ones are designed to deliver dramatic results and reduce any sensitivity you might feel afterward.
To learn more about our whitening treatments and schedule an appointment, contact us today.