Teeth Whitening – Fairfax, VA
Get a Brighter Smile You're Proud of
Professional teeth whitening is a wonderful way to get a brighter smile you're proud of! Performed at home or in our dental office, we can brighten your teeth by up to eight shades in as little as one visit if you choose in-office Zoom!. If you'd prefer, a take-home teeth whitening kit can provide dramatic results over the course of just two weeks. Do not hesitate to give us a call about which option for teeth whitening in Fairfax, VA may be best for you!
Who is a Good Candidate for Teeth Whitening?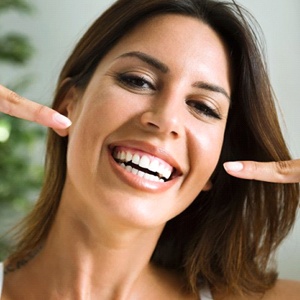 Tooth discoloration can be caused by a variety of different things. Here are a few of the most common culprits:
Pigmented foods and beverages
Tobacco use
Sugary and acidic foods and beverages
Aging
Poor oral hygiene
Genetics
Certain medications
Some of the causes of tooth discoloration can be prevented, but some are out of your control. There are two main types of staining: extrinsic and intrinsic. Extrinsic stains occur on the surface of your teeth and are typically caused by foods, beverages, and tobacco products. This is the type of discoloration that is typically caused by foods, beverages, and tobacco products. It can usually be lifted with professional whitening. On the other hand, intrinsic stains can happen as a result of medications. They are something to discuss with your doctor and dentist.
How Does Teeth Whitening Work?
We offer two different types of teeth whitening so you can brighten your smile in whatever way you choose:
Take-Home Teeth Whitening
If you opt for our take-home option, you will need to come into the office so custom-fitted mouth trays can be designed to keep our strong whitening gel against your teeth. When you get home, all you'll need to do is wear the trays and gel together for about 20 minutes a day for two weeks to achieve optimal results. Most patients notice a difference after just one session!
In-Office Teeth Whitening
At Fairfax Dental Group, we offer Zoom! teeth whitening because it's not only effective, but it's safe and quick as well. First, we will apply an extra strong yet gentle professional bleaching gel to your smile. Then, we'll use a special heating lamp to penetrate the surface of your enamel, which helps to erase tough stains. This also makes the process incredibly fast, allowing patients to leave our dental office with a smile that is up to 8 shades brighter in about 45 minutes!
Tips for Maintaining Your Brighter Smile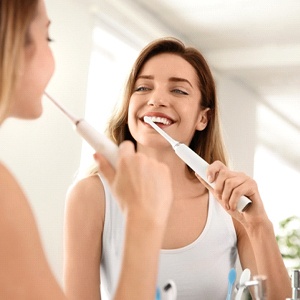 The results of your teeth whitening will last much longer if you take the time to maintain it. Here are some tips to help you keep your pearly whites bright for as long as possible:
Practice excellent oral hygiene. Brush twice and floss at least once a day.
Stay away from dark-colored beverages, like coffee and red wine.
Don't use tobacco products.
Attend your six-month dental cleanings and checkups.
Come to see us for touch-up treatments as needed.