Dentures - Fairfax, VA
Replacing Missing Teeth So You Can Eat and Speak With Ease Again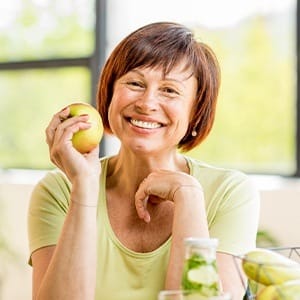 Missing several or all of your teeth has a drastic effect on your day-to-day life and can heavily impact your health. The American College of Prosthodontists approximates that about 40 million adults in the nation are missing all of their teeth, meaning you're not alone. Fortunately, there are high-quality tooth-replacement solutions that can help you regain the function and look of your smile and preserve your wellbeing. At Fairfax Dental Group, we use natural-looking, high-quality materials to craft full and partial dentures in Fairfax, VA that are comfortable and beautiful. That way, you can eat and speak without having to struggle. To learn how our team of dental professionals can help replace your missing teeth in Fairfax, schedule a consultation by contacting our dental office today!
Who's a Good Candidate for Dentures?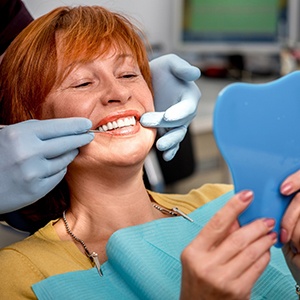 Should you suffer from tooth loss, you're likely a good candidate for dentures in Fairfax. After all, these prosthetics work whether you lack a few teeth or many. That said, you'll only know for sure by consulting with our dentists. They can assess if treatment is right for you or if preliminary work is needed. Fortunately, we at Fairfax Dental group are happy to explain that process. To learn more about it, just keep reading or contact us for the details.
Effects of Missing Teeth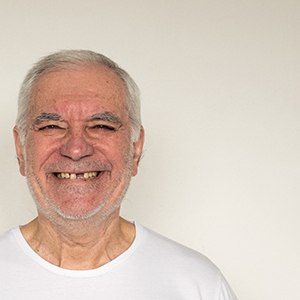 Being without teeth is a serious situation. Not only are the causes of tooth loss dangerous, but the same applies to its long-term effects.
For starters, lost teeth result from one (or more) of various oral health issues. These can include tooth decay, gum disease, dental injury, etc. If you don't address your missing chompers, those problems will only worsen. You don't want that, right?
Adding insult to injury, tooth loss has its own adverse side effects. Naturally, the most obvious ones are increased speaking, eating, and smiling difficulties. However, the condition will even erode your jaw if left unchecked. In that case, you might suffer from facial collapse – shrinkage of the jawbone that ages your face.
What Qualifies You for Dentures?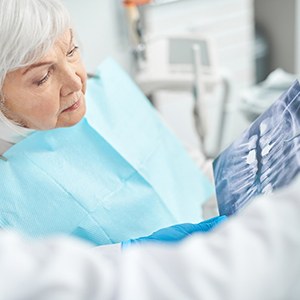 Again, you'll probably qualify for dentures if you suffer tooth loss. At the same time, though, there are other signs you'd make a good candidate. These range from having dental sensitivity and advanced decay to sporting healthy gum and bone tissue. Plus, you'll need a commitment to oral health and denture maintenance for treatment to work.
As for denture type, the number of lost teeth determines the best one for you. On the one hand, it might be a partial model that replaces a few pearly whites. Conversely, it could be a full type that replaces an entire arch. Your dentist will confirm things at your consultation visit.
Alternative Tooth-Replacement Options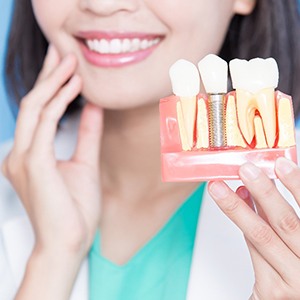 Of course, there's a chance you might not qualify for dentures. Still, don't worry – it's not the end of the world if that happens. Fairfax Dental Group offers several other tooth-replacement options. In particular, we provide the following:
Dental Bridges: As a fixed restoration, a dental bridge replaces one or a few teeth. To that extent, it supports itself by clasping to a patient's other pearly whites.
Dental Implants: Dental implants are titanium posts inserted into your jawbone. They naturally fuse with your jaw over time, so patients who get them need a solid bone structure. Implant placement costs more than traditional dentures, but it's permanent.
Learn More About Dental Bridges
Learn More About Dental Implants
Full Dentures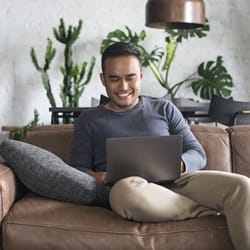 When our patients come to us and are missing an entire arch or all of their teeth, we often recommend full dentures in Fairfax. These are customized replacement teeth that are typically made from ceramic or porcelain and secured to a gum-colored acrylic base. They're completely removable, allowing patients to take them out before they go to bed in order to rest their mouth and gums. This feature makes them easier to clean and sanitize. Traditional dentures are also able to securely stay in your mouth using natural suction and denture adhesive, which allows you to comfortably and confidently let your smile show.
Partial Dentures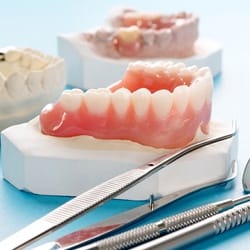 For our patients who are missing several teeth in an arch but not all of them, we'll likely recommend removable partial dentures in Fairfax instead. These allow you to preserve your remaining natural teeth while still restoring the gaps in that arch. The replacement teeth are attached to a customized base that can be made of metal or gum-colored acrylic and is made to be discreet. The foundation secures your replacement teeth, restoring your ability to eat and speak with ease.
Dental Implant-Retained Dentures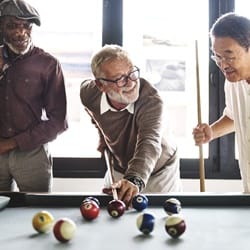 Our patients who are looking for a longer-lasting denture that restores the entire structure of missing teeth, dental implants in Fairfax are a modern restorative procedure with a variety of unique benefits. They consist of titanium implant posts that are surgically placed below your gum to replace the missing roots of your tooth to prevent jawbone deterioration. Attached to these posts are custom-crafted dentures, which remain securely in place without the use of natural suction or adhesive.
Maintenance Tips to Help Your Dentures Last Longer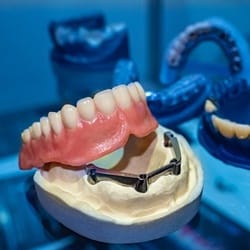 Even though your dentures can't develop cavities, it's incredibly important to regularly clean and care for them. With routine maintenance, your replacement teeth can last anywhere from seven to 15 years. Here are some tips to help keep your dentures clean and avoid damaging them:
Place a cloth on the bathroom counter to set your dentures down on while you're cleaning them. This will prevent them from sliding off and potentially breaking or fracturing when they hit the ground.
Clean your dentures using a denture toothbrush and denture cleaner every day.
Store your dentures in a cup of room temperature water or denture-soaking solution every night to make sure they hold their shape.
For partial dentures, it's important to continue brushing and flossing your remaining natural teeth to keep them healthy.
If you have any questions or concerns involving replacing your missing teeth in Fairfax or caring for your dentures, don't hesitate to contact our dental office today. Our team would be more than happy to help restore your smile with functional and beautiful full or partial dentures!
Understanding the Cost of Dentures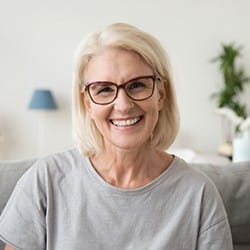 Dentures are highly personalized to your specific concerns and come in many varieties based on these needs. With this in mind, the best way to know for sure what your costs will look like when considering dentures is to give us a call to complete a detailed consultation. Our dentists at Fairfax Dental Group are happy to assess your oral health needs so you can receive the most natural-looking and longest-lasting denture possible.
Factors that Affect the Cost of Dentures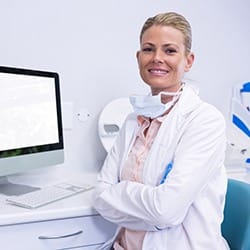 Every patient is different, so your dentures could cost significantly less or more than someone else. However, when determining the overall price tag for your new smile, there are some factors our team will take into consideration, including:
Timeline of treatment
Difficulty of the treatment
Preparatory treatments (i.e. extractions)
Materials used for the acrylic base
Materials used for restorations (i.e. acrylic and porcelain)
Number of dentures you will need (i.e. top, bottom, or both)
Keep in mind that choosing the cheapest denture possible is not the most ideal. After all, for an appliance that is going to be used regularly, it's important to invest in what goes in your mouth.
Are Implant Dentures More Expensive?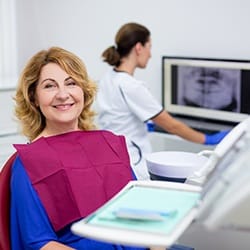 If a denture is retained with dental implants, treatment is more expensive because of the additional steps necessary to complete treatment. However, this is for a good reason. Once the implants have fully integrated into the jaw, they are fully capable of not just holding a denture, but making it far more secure compared to a traditional full or partial denture. The denture is more permanent, lifelike, and longer-lasting, which means you can expect your new smile to last longer and provide more confidence when eating your favorite foods. For comparison, a denture usually needs to be replaced every five to seven years, while implant dentures can last for multiple decades.
Does Dental Insurance Cover Dentures?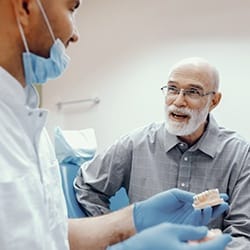 Once you have an idea as to how much you can expect to pay for your dentures, you'll need to review your dental insurance policy to determine how much, if any, they will cover for your treatment. Our team will be happy to assist in this process if you prefer. While most dental insurance plans offer some level of coverage for dentures, they are only likely to be covered. If your insurance plan does provide coverage, they generally have about 50% of their cost covered.
Other Options for Making Dentures Affordable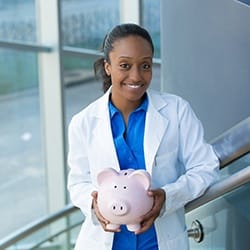 If you don't currently use dental insurance or don't have coverage for dentures, there are other methods available at our office that can help make your treatment more affordable. For example, CareCredit allows for flexible monthly installments on dental care, often with little to zero interest attached. Alternatively, our office provides a Wellness Plan which not only guarantees specific dental services at a flat rate, but provides a discount on all other services performed at Fairfax Dental Group (excluding Invisalign.)
Of course, you're always encouraged to give our office a call directly to set up a consultation and learn more.
Dentures FAQs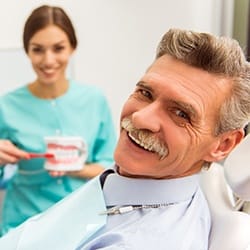 Unsure what to expect when having dentures put into place? At Fairfax Dental Group, we know you probably have a lot of questions surrounding your tooth replacement solution, which is why we've worked to compile a list of denture FAQs in Fairfax for you to review. Our team understands how this sudden change in your appearance can take time to adjust to. We also know you'll need some guidance on how to care for your new smile and what you should and shouldn't do to ensure its longevity. We invite you to review the following information and contact our office if you have any additional questions or concerns. We'll be happy to schedule an appointment and go over the necessary details with you.
How long will it take to adjust to my new dentures?
When preparing to receive your new dentures, you can expect there to be an adjustment phase. After all, your tongue, cheeks, gums, and other oral structures will need to become accustomed to these new fixtures. Fortunately, this period of time shouldn't last too long, and there are a few things you can do to make the process easier, such as:
Slowly speaking in front of a mirror. Because you'll likely have some difficulty forming certain words or speak with a slight lisp in the beginning, you may want to slow down your speech and practice enunciating certain words to minimize the difference in how you sound when you speak.
Avoid eating hard, crunchy foods in the beginning. Instead, stick to softer foods, as this will prevent additional soreness in the beginning. It will also help you to become more adjusted to the denture being in your mouth while you eat. Over time, you can begin to incorporate regular, solid foods as you become more comfortable.
Can I sleep in my dentures?
It is strongly advised that you do not sleep in your dentures. Here's why: It's important that your prosthetics remain moist to prevent breakage. By soaking them at night, you will not only give your gums and jaw a break and chance to breathe, but you'll also be taking better care of your dentures by allowing them to be thoroughly cleaned throughout the night. When you wake, make sure to rinse them off before reinserting them into your mouth.
What is the average cost of dentures?
Every patient is different, so your dentures could cost significantly less or more than someone else. However, when determining the overall price tag for your new smile, there are some factors our team will take into consideration, including:
Location of the dental practice
Timeline of treatment
Difficulty of the treatment
Number of dentures you will need (i.e. top, bottom, or both)
Once you have an idea as to how much you can expect to pay for your dentures, you'll need to review your dental insurance policy to determine how much, if any, they will cover for your treatment. Our team will be happy to assist in this process if you prefer.
How Often Do I See My Dentist When Wearing Dentures?
Even if you have a full denture replacing an entire arch of teeth, you still need to see your dentist regularly for a checkup and cleaning. We must be able to examine your restoration to make sure no problems are occurring or issues developing with your denture(s). If you want them to remain in place as long as possible, you'll want to make sure you're keeping these appointments in addition to practicing good oral habits at home.