Dental Implants — Fairfax, VA
A Healthy & Strong Tooth Replacement Solution
After you've lost a tooth or had one extracted, it's essential that you replace it. Not only is it important for your self-esteem, but it's key for your oral health. If you're looking for a healthy and strong tooth replacement solution, look no further than dental implants! Drs. Brenda Young and Marjun Ayati offer this advanced alternative to traditional dentures and fixed bridges to effectively replace missing teeth from the roots up. Read on learn more about how dental implants can restore the look, function, and feel of your smile and give us a call today to schedule your consultation!
Why Choose Fairfax Dental Group For Dental Implants?
Dentist Highly Trained & Experienced in Dental Implants
Advanced Dental Implant Procedures Available
Fair & Reasonable Prices with No Surprises
What Are Dental Implants?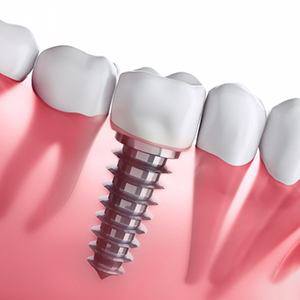 There are three parts to a dental implant: an implant post (which will mimic the missing tooth's roots), an abutment (a small connector piece), and a final restoration (which may be a crown, bridge, or denture). The implant post is placed directly into the jawbone to form an incredibly strong and comfortable foundation for your new smile. The abutment is placed on top of the post and securely fastens the final restoration in place above the gumline. This unique placement offers a wide variety of important benefits, which is why it's widely considered by patients and dentists alike to be the gold standard of tooth replacement.
The 4 Step Dental Implant Process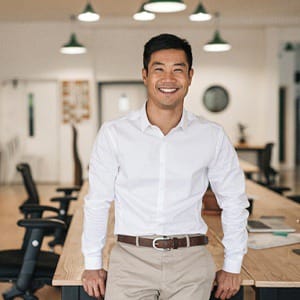 Whether you want to replace one tooth or an entire arch, the dental implant process takes place over multiple phases and several months. It's important to keep in mind that every procedure varies depending on the patient's unique needs, but typically, the process consists of an initial consultation, preparatory procedures, the implant placement, a healing period, and the placement of your abutments and restorations. To find out what your treatment timeline will look like, schedule a consultation with Dr. Ayati today.
Initial Dental Implant Consultation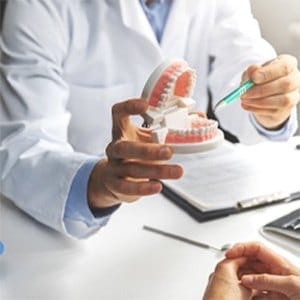 During your initial consultation, Dr. Ayati will take the time to thoroughly examine your mouth and facial structure to determine if you're a good candidate for the dental implant procedure. Using digital imaging, we'll capture pictures of your jawbone and oral structure, allowing us to see if the implants will be able to properly fuse with your jawbone and support your restorations. After informing you of all of your options, we'll create a customized treatment timeline and let you know whether you need preparatory procedures, how much the procedure will cost, and how long it will take before you can enjoy your new smile.
Dental Implant Surgery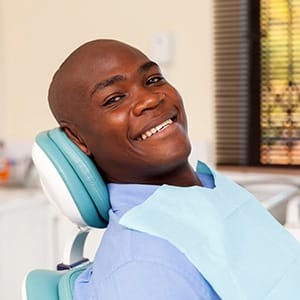 Dr. Ayati is a member of the American Society of Implant & Reconstructive Dentistry. This means that she is dedicated to performing high-quality and precise surgical and restorative dental procedures and has achieved advanced training and education to do so. This way, your entire dental implant treatment will take place under one roof, so you won't have to worry about the hassle of scheduling the procedure with a new surgeon and a team that you're unfamiliar with.
The surgery is fairly straightforward and its length will depend on how many dental implant posts you're having placed. First, Dr. Ayati will make a small incision in the gums to reach your jawbone. The implant posts will be inserted into the bone and the gums sutured up. Then, she'll make sure that the implants are protected as you undergo your healing process by placing a small cap over them.
Dental Implant Osseointegration/Abutment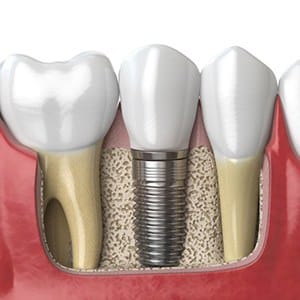 Over the next several months, the dental implant post in your jawbone will undergo osseointegration. This is the process where the post literally fuses with the surrounding bone tissue, effectively becoming a part of your jaw. This will provide a strong, stable, and comfortable base for your crown, bridge, or denture to be attached to. Once your mouth has healed enough, you'll come in to have an abutment placed on top of the implant post (if it wasn't placed during the first surgery).
Delivery of Dental Implant Restorations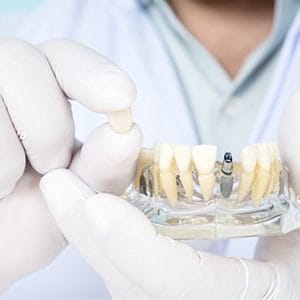 As soon as we receive your custom-made denture, crown, or bridge, we'll call you back to our office to have it attached to your dental implants. We'll check that your bite feels comfortable, and then your remodeled smile will be complete!
Benefits of Dental Implants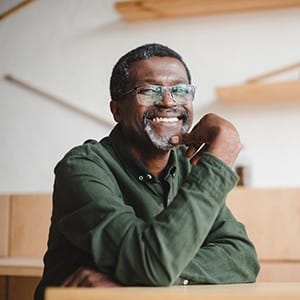 Dental implants in Fairfax offer several health benefits that aren't possible with removable dentures, partials, or fixed dental bridges. As a state-of-the-art solution to tooth replacement, dental implants replace not only the visible parts of teeth but also the underlying structures. Advantages are numerous, and patients love how indistinguishable implants are from natural teeth. Not to mention, more and more individuals are choosing dental implants, as their prevalence has increased more than 6% from 2019-2020. If you are continuing to weigh your options when it comes to replacing your missing teeth, consider these additional benefits of dental implants in Fairfax:
Lifestyle Benefits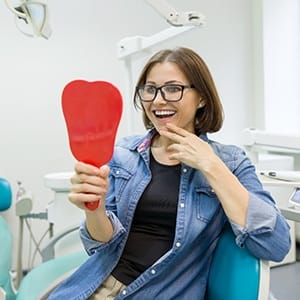 With dental implants, you will regain your ability to eat the foods you love. With increased chewing power and bite force, you can expect greater stability and durability, making it easier to consume coarser, harder foods that are often difficult for individuals with dentures or fixed bridges.
Dental implants in Fairfax are surgically implanted into your jawbone, allowing them to fuse with the bone and tissues. This creates a permanent fixture in your mouth that will not leave you worried about slippage while eating or speaking. This is considered one of the greatest benefits when comparing them against dentures that only use your natural suction to remain in place.
You will notice a dramatic increase in your self-esteem because your implants will replicate your natural tooth structure and look completely natural.
You'll be able to enjoy hot coffee as well as any other hot beverage without fear of warping or damaging your implants (unlike dentures).
Health Benefits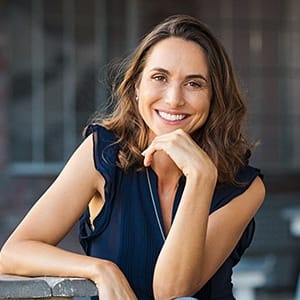 Dental implants mimic the tooth's root, allowing it to continue stimulating your jawbone. As a result, you will be less likely to experience bone loss and the potential for facial collapse, which is a real possibility for people living with dentures and fixed bridges, as they only sit on top of the gums.
With implants, you can expect an easier experience cleaning your prosthetics and maintaining better oral hygiene. Although your implants cannot decay, it is possible to still develop gum disease; however, you can freely clean your teeth and gums with regular brushing, flossing, and rinsing.
Unlike dentures and fixed bridges that can cause irritation over time, your dental implants should never do this. Because they do not rely on nearby healthy teeth to remain in place and because they are permanent within your mouth, they should function just like regular teeth.
By choosing to replace your missing teeth, you can extend your lifespan. According to Dentalhealth.org, individuals with 20 teeth or more by the time they reach 70 are at a greater risk of living a longer life.
Long-Term Benefits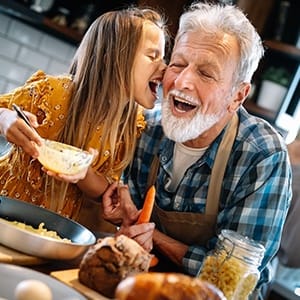 Choosing dental implants over dentures and fixed bridges will actually save you more money in the long run. Not only will you not need to worry about replacements and frequent relining, but you'll avoid spending money on cleaning solutions and denture adhesives, too.
When dental implants are initially placed by a trusted implant dentist in Fairfax, you can expect a 98% success rate. After 10 years, they have a 90-95% success rate!
As long as you remain committed to caring for your dental implants and oral health, you can expect them to last a lifetime without ever needing to be replaced. This is drastically different than partials, full dentures, or fixed bridges that require replacements after only a few years.
Who Dental Implants Can Help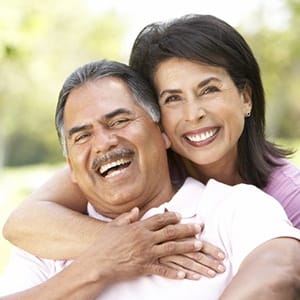 An additional reason that we offer dental implants is their versatility. Practically anyone with good oral and overall health with missing teeth can rebuild their smile with dental implants. They can be used to replace one tooth, multiple teeth, or even your whole smile. It all depends on your specific needs and the number of teeth that you're missing. Sometimes, we'll recommend advanced dental implant treatments like a bone graft or sinus lift to maximize the success of your dental implants.
Missing 1 Tooth
Are you missing just one tooth? You should still replace it immediately to preserve your oral health and appearance. Your dentist in Fairfax can use an implant-retained dental crown to seamlessly complete your smile. Our dental crowns are custom-made to match the size and shade of your natural teeth.
If you're missing multiple teeth consecutively, we can use an implant-retained dental bridge to fill the gap in your smile. These personalized prosthetics are rooted in place with dental implants on either side making them incredibly strong.
Missing All Teeth
If you're missing all or most of your teeth, our first recommendation is an implant denture. This option allows us to replace all of your missing teeth at once with the strength and health benefits of dental implants. The results allow for a sturdy, strong, and beautiful smile.
Understanding the Cost of Dental Implants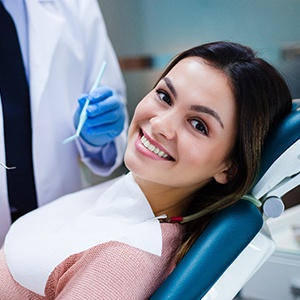 The cost of your dental implants is hard to determine without examining your mouth first. After one of our skilled dentists carefully checks the condition of your dental health, the number of teeth you're missing, and the strength of your jawbone, they'll be able to provide a precise recommendation. We consider dental implants to be a long-term investment, making them worthwhile even though they tend to cost more than other tooth replacement options.
Preliminary Treatments & Dental Implant Surgery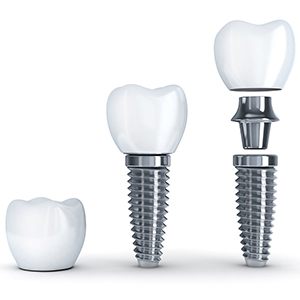 The process of replacing your missing teeth with dental implants will involve several steps, each with a separate cost. This gives you more time to pay for your new smile because you won't need to cover the entire amount upfront. Although every plan differs, costs can increase when additional treatments are necessary to make dental implants viable. This includes:
Preparatory treatments, which can include tooth extraction, gum disease therapy, or bone grafts.
The cost of surgery, which can be higher or lower depending on how many teeth need to be replaced. Sedation can also increase costs of you opt for it ahead of your treatment.
We keep the entire implant placement process in-house, which is sure to make the breakdown of your costs more compact and easier to understand when all is said and done.
The Parts of Your Dental Implant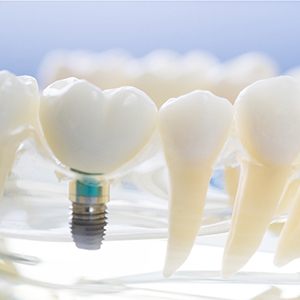 There isn't a set fee for dental implants because there are several factors that influence the cost of the treatment, like the number of teeth you're missing. Generally, you can expect to pay more if you're treating several teeth because you'll need more implant posts, abutments, and a larger restoration. We'll provide you with a custom estimate during your initial consultation. The materials used and the manufacturers we purchase dental implants from can also influence cost. We're happy to go over why we opt for certain dental implants in detail with you directly.
Final Dental Implant Restoration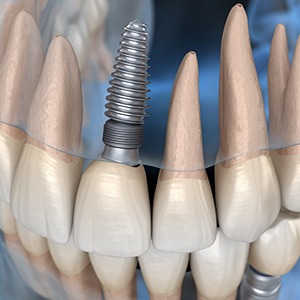 Depending on the type of restoration you need, you may need to pay more to make your smile complete. For example, those who need only one dental crown to cover a single dental implant will not need to pay as much as someone who intends to replace multiple consecutive teeth or bring back an entire arch. Larger restorations require more attention to detail and materials to create, resulting in a higher price tag.
Does My Dental Insurance Cover Dental Implants?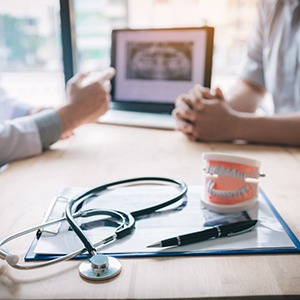 Every insurance policy differs, but most plans offer coverage for treatments related to dental implants (i.e. preparatory treatments or restorations) after reaching your annual deductible. A member of our team will work on your behalf to file the necessary claims to maximize your yearly limit. We will explain how your benefits are being used and your remaining balance. Our dental office accepts several payment options to cover any out-of-pocket expenses, like traditional methods and third-party financing. We will help you find the solutions you need to replace your missing teeth without draining your wallet.
Making Dental Implants Affordable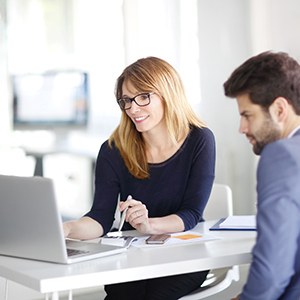 At Fairfax Dental Group, we are committed to providing quality care that is also affordable, which is why we offer multiple financing options to make dental implant treatment easier to obtain. One of the ways we do this is through CareCredit, a third-party financing option that lets you make low-to-zero interest payments for treatments over the span of several months instead of covering all your costs in one lump sum. We also offer a Wellness Plan that not only guarantees dental services at a specific price, but gives you discounts on all other treatments performed in-house!
Advanced Dental Implant Procedures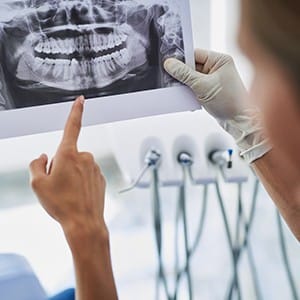 While more people can receive dental implants today than ever before, there are some cases where more advanced procedures need to be performed before they can be confidently placed. Whether it's bone grafting to replace bone lost as a result of missing teeth for many years at a time or a sinus lift to increase the bone volume in the upper jaw, Dr. Ayati and Dr. Young will make sure that you understand how they work in great detail. If you have additional questions about these more advanced treatments, we encourage you to give our dental office a call to set up a consultation.
Bone Grafting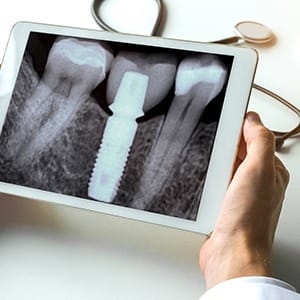 When teeth are lost, whether as a result of severe gum disease or physical trauma, the root, as well as the crown, are removed. This means the bone tissue responsible for stimulating the tooth is no longer functioning as they should. Over time, bone tissue will begin to break down, resulting in the jaw losing biting strength. It also means that dental implants will struggle to integrate with the jaw. If we recommend a bone graft prior to your dental implant surgery, it's because your jaw bone has become too thin or soft to keep a titanium post in place.
During a bone graft, bone material is placed directly onto the area of the jaw so that it can regenerate supporting bone material and expand its width and height. This process can take several months to complete, but it will make it possible for dental implants to integrate with the jaw. The bone material can come from other areas of the body (known as an autograft) or from a donor (which can be either from another person or an animal.)
Sinus Lifts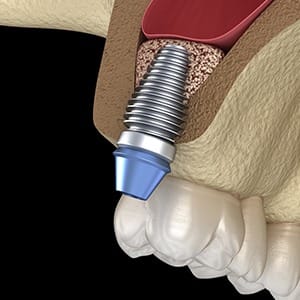 When placing dental implants, there are certain areas of the mouth that are more difficult to work with. One of these areas is the upper jaw, especially where the molars and premolars are located. Sinus lifts (also referred to as sinus augmentations) are performed when there is not enough bone tissue for an implant to integrate, much like a bone graft. Those who have suffered from severe gum disease or serious facial trauma may need a sinus lift to receive an implant.
First, we complete a set of detailed X-rays of your skull, then schedule you for surgery at a later date. During the actual surgery, a small incision is created in the gum tissue so the bone is accessible. We then cut a small window into the bone and push it upwards to reveal the sinus cavity. From here, we lift the membrane and fill the space below with bone granules. Finally, the gum tissue is stitched close and the sinus is given time to integrate with the donated bone material. After several months of healing, we can perform additional X-rays to make sure that your jaw is ready to receive dental implants.
Dental Implant FAQs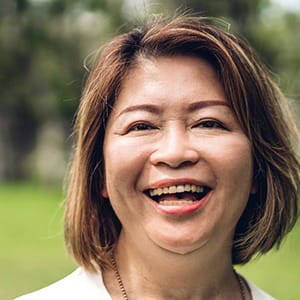 Do you still have questions about getting dental implants in Fairfax? When you schedule your initial consultation with us, we can walk you through the entire process from start to finish. For now, we've answered some common questions that we receive from our patients below.
How Do I Take Care of My Dental Implants?
Just like your natural teeth, it's important to take care of your dental implants to ensure they stay healthy and last longer. Although your artificial teeth can't develop cavities, you'll need to regularly brush, floss, and rinse your mouth to keep your gums healthy and prevent any complications from arising. It's also vital for you to visit your dentist in Fairfax every six months for checkups and cleanings to make sure that your implants are functioning properly and are healthy.
Does Dental Implant Surgery Hurt?
Patients often ask us whether dental implant surgery is painful to undergo. You'll be glad to hear that it isn't! We make sure that you're completely numb and won't be able to feel a thing before we place your titanium post. As the anesthesia and/or sedation begins to wear off, we'll provide you with some post-operative instructions to help reduce your risk of swelling and ease any tenderness or discomfort you'll experience as your gums begin to heal.
What Is the Recovery Process After Dental Implant Surgery Like?
Recovering from dental implant surgery isn't that long of a process. Many of our patients are able to return to their normal daily routines a day or two after their procedure. However, it will be several months until your implants have fused with your jawbone and you'll be able to undergo the next part of the process. As long as you continue caring for your smile during these months and following any post-op instructions that we provide you with, you should be able to make a fast and pain-free recovery.
How Successful Are Dental Implants?
Dental implants boast an impressive 98 percent success rate. However, it's important to note that there are several bad oral habits that can cause them to fail. In order to ensure the success of your implant fusion with your jawbone, it's a good idea to stop smoking and drinking in the weeks leading up to and after your surgery. Otherwise, please speak to your dentist in Green Hills about any concerns or immune-compromising medical conditions that you may have at your initial consultation to learn whether you'll be a good candidate for the procedure.
How Long Do Dental Implants Last?
With diligent maintenance and care, dental implants have been known to last over 35 years. After we place your artificial teeth on the abutments, we'll let you know what steps to take in order to get the most out of your new investment.
Do Dental Implants Decay?
No, it's actually impossible for your replacement tooth to decay. It may look just like a natural tooth, but it isn't made from enamel, so it cannot get cavities. However, your remaining teeth can still get cavities and your gums can still become infected with gum disease. Gum disease could lead to dental implant failure and additional tooth loss. This is why it's still so important that you are keeping up excellent oral hygiene, even if you have dental implants.
Do Dental Implants Make You Look Younger?
Yes! The force of biting and chewing your food spreads through the roots of your teeth to stimulate your jawbone. When your teeth are missing, the jawbone loses this simulation and will begin to deteriorate. This can cause your facial structure to appear more sunken and wrinkled. Dental implants are the only tooth replacement option out there that can stimulate the jawbone. This will keep your jawbone strong and your face youthful!
Can I Get Dental Implants If I Have Rheumatoid Arthritis?
Depending on your bone density and gum health, you may still be able to get dental implants. However, treating rheumatoid arthritis often involves taking immunosuppressant drugs which can complicate bone healing and increase your risk of infection. It's also important to consider your ability to brush and floss properly. For implants to be successful, proper maintenance is crucial. Your dentist will evaluate your oral and overall health to determine if you are a good candidate.
Do I Need a Bone Graft Before Getting Dental Implants?
Bone grafting involves transplanting a piece of bone tissue to the jawbone to strengthen it so that it can better accommodate dental implants. The jawbone often atrophies after teeth have been lost because the roots are no longer present to stimulate it through biting and chewing. Your dentist will take detailed scans of your jaw area to determine whether you will need bone grafting before you can get dental implants.
Maintaining & Caring For Your Dental Implants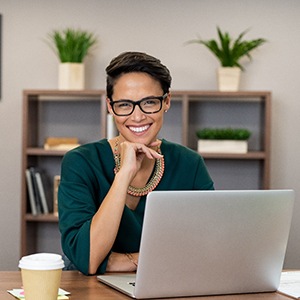 Are you equipped with all the information you need about dental implant care in Fairfax? When visiting our team of experts to discuss your future with these permanent prosthetics, you can be sure that we will provide you with everything you need to know to make sure your new smile remains firmly intact for a lifetime. Because dental implants are designed to potentially last a lifetime with proper care, you can feel more confident in your decision to pursue this worthwhile investment. From maintaining good oral hygiene to giving up bad habits and eating healthier foods, we're offering a list of valuable tips and recommendations to help keep your implants right where they belong for as long as possible.
Making Oral Hygiene a Priority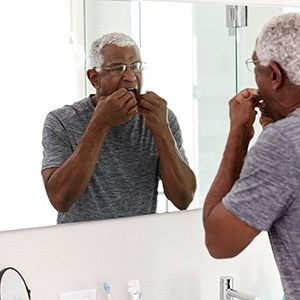 Dental implants in Fairfax cannot decay. However, this does not mean that your natural teeth or gum tissue are immune to infection. This is why it is necessary to maintain good oral hygiene at home. Brushing twice a day with a non-abrasive toothpaste as well as flossing at least once before bed and rinsing with an antimicrobial mouthwash can rid your oral cavity of bad bacteria, food particles, and anything else that might hinder the lifespan of your regular teeth and dental implants.
Eating a Healthy Diet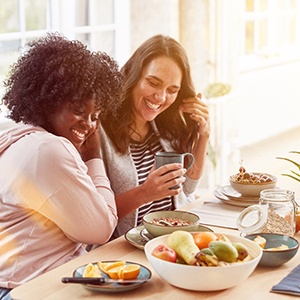 Leafy greens, low-fat dairy, lean proteins, fruits, and vegetables are all healthy food options you should incorporate into your diet. Those full of vitamin C and calcium can help to ensure greater gum health and strengthen regular tooth enamel. By limiting your consumption of sugar and starch, you can lower your risk for cavities and gum disease – a problem that can lead to implant failure if left untreated. Although you are free to eat all your favorite foods, it's best to be mindful of what you are consuming on a daily basis.
Breaking Bad Habits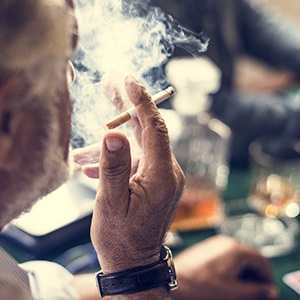 Should you develop a crack, chip, or break in your dental implants, you'll be expected to spend time and money seeing your implant dentist in Fairfax. Although not always preventable, there are bad habits that can increase your risk for potential damage if you do not give them up. Whether it is smoking, eating ice, chewing on inanimate objects, or using your teeth to open packages, you can shorten the lifespan of your implants and find yourself investing even more money into necessary replacements. Do yourself a favor and start giving up these bad habits before you have your dental implants put into place.
Protecting our Dental Implants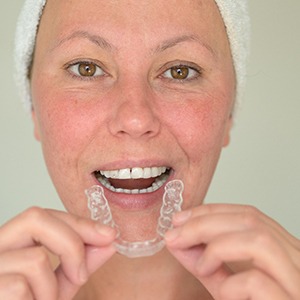 If you enjoy playing sports, a protective mouthguard can be an ideal solution to safeguard your smile from potential damage. If stress causes you to grind or clench your teeth at night while you sleep, a customized mouthguard can be exactly what you need to avoid excessive wear and tear to your tooth enamel and chips or cracks to your dental implants. Our team at Fairfax Dental Group can provide you with a custom-made mouthguard that is comfortable to wear and easy to use.
Scheduling Regular Dental Checkups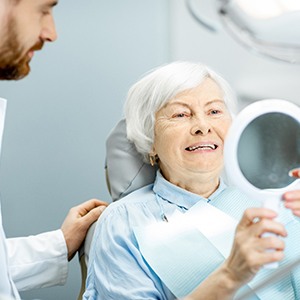 What you may not realize is that your dentist is your ally in the fight against tooth decay, gum disease, bad breath, oral cancer, and damage to your dental implants. By keeping your six-month dental checkups and cleanings, we can examine your prosthetics and restorations to ensure no problems are developing. We'll also make sure your gum health and natural teeth are free of decay and disease, which will, in turn, positively benefit the lifespan of your prosthetics.