Dental Crowns – Fairfax, VA
Beautiful & Strong Smile Repairs
If you have a weakened, chipped, misshapen, or broken tooth in Fairfax, we have the perfect solution. Our dental crowns can be used to correct various problems—both restorative and cosmetic. At Fairfax Dental Group, we want our patients to have the treatments they need to stay healthy and happy all under one roof, which is why we offer beautiful and strong dental crowns. Keep reading to see what it's like to get this restoration and how you could benefit from dental crowns in Fairfax, VA.
What is a Dental Crown?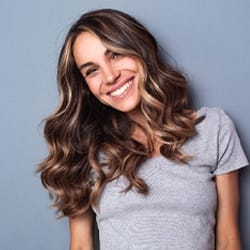 A dental crown is a dental restoration that is designed to cap the entire visible portion of the tooth. This can strengthen weakened teeth, protect them, fix misshapen teeth, erase permanent discoloration, and so much more. Our crowns are made from high-quality dental porcelain, which mimics the color and reflection of natural teeth. Once placed, patients can enjoy a beautiful, strong, and functional smile thanks to dental crowns in Fairfax.
When Do You Need a Dental Crown?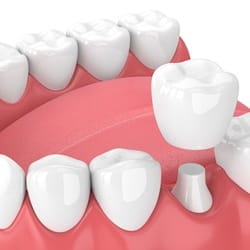 A dental crown can be used to:
Repair a large cavity
Fix a chipped or broken tooth
Hold together a weakened tooth
Cosmetically enhance an undersized or misshapen tooth
Complete a tooth that has been replaced by a dental implant
Restore and protect teeth after root canals
The best way to know if a dental crown is right for you is to call our dental office to schedule a consultation. We'll carefully examine your smile before recommending this restoration.
Receiving a Dental Crown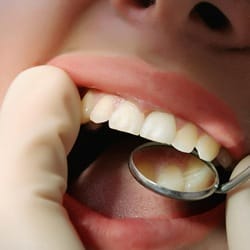 The procedure to get a crown typically involves two visits to our dental office. During the first, we'll usually remove a slight portion of your tooth enamel. Then, we'll take special images and impressions of the affected area, sending these models to an advanced dental lab. During this waiting period, we'll give you a temporary crown if the tooth is in the front of your mouth to maintain your appearance. After about 2 weeks, you'll come back into our dental office, where we will ensure that you're happy with your results before permanently bonding the crown to your smile.
The Benefits of Dental Crowns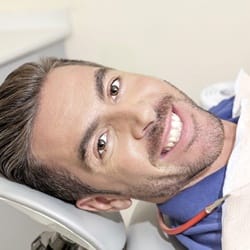 Dental crowns are versatile, allowing us to use them to correct numerous dental issues. Our custom-made crowns can offer patients these advantages:
Longevity: Dental crowns can last for a decade, and even longer with proper care.
Maintenance: Just like your natural teeth, dental crowns should be brushed and flossed—no special cleaning routine required!
Appearance: Dental crowns are designed to look and feel like your natural teeth.
Personalization: We can work with you to choose the exact size, shape, and shade of your crown for amazing results.
Does it sound like you could benefit from a dental crown? Contact our dental office today to take your first step toward a strong, beautiful, and healthy smile.
Understanding the Cost of Dental Crowns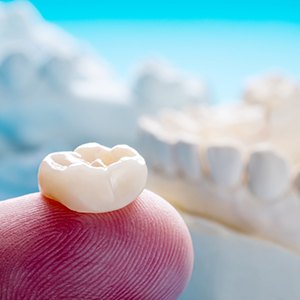 The cost of dental crowns depends on a few factors. During your treatment consultation, we will be able to share specific numbers with you. With the help of insurance, financing, and/or our in-house discount plan, most patients find that it is not too difficult to fit their crown into their budget.
Factors that Affect the Cost of Dental Crowns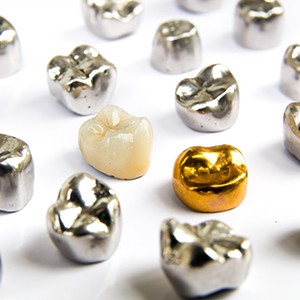 A few factors that can have a bearing on the cost of dental crowns include:
Additional care. Some patients require root canal therapy or other treatments before they are eligible to receive a crown. Naturally, such services add to the overall cost of care.
Crowns can be crafted out of various materials, such as gold, amalgam, base metals, porcelain fused to metal (PFM), and other options. Here at Fairfax Dental Group, we tend to favor 100% porcelain because it is both beautiful and durable.
How and where the crown is made. The technology involved in making the crown, as well as the policies of the laboratory where it is fabricated, can have an effect on your total bill.
It is important to keep in mind that cheaper crowns can sometimes be unsightly and uncomfortable. It is best to invest in high-quality care from the start.
Does Dental Insurance Cover Dental Crowns?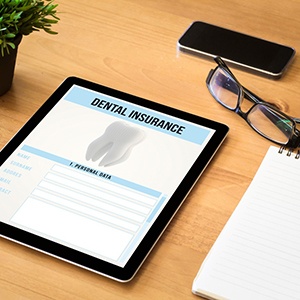 Yes, it is very common for dental insurance to cover dental crowns. Usually, this treatment is classified as a major service, so around 50% of the bill may be covered, depending on your deductible and your plan's annual maximum. Our practice welcomes dental insurance, and we will be happy to help you understand how your benefits apply so you can pay as little out of pocket as possible.
Other Options for Making Dental Crowns Affordable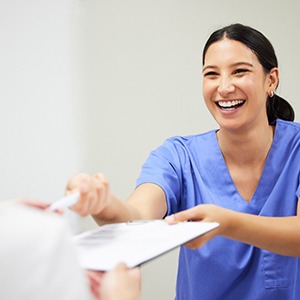 In addition to insurance, there are a couple of other options that might make it easier for you to afford your crown:
Our in-house Wellness Plan. This is designed for patients without insurance. In exchange for a reasonable annual fee, you can enjoy all necessary preventive care and a generous discount on restorative services, including crowns.
CareCredit is a third-party company that offers low-interest financing for qualified patients. The application process is easy, and most patients are approved for an affordable installment agreement.
Dental Crown FAQs
Dental crowns in Fairfax have been used for generations to repair damaged teeth; however, they are a big commitment. Don't worry if you have a few concerns because your dentist at Fairfax Dental Group will explain exactly what you can expect during your consultation. Here are the answers to the most frequently asked questions while you wait for your appointment.
Does It Hurt to Get a Dental Crown?
Your comfort will be your dentist's top priority. A local numbing agent can be used to block any pain signals during preliminary procedures or the preparation of your tooth. You may feel some pressure or unusual sensations, but you won't have any outright pain. After the effects of any medications dissipate, your tooth may be a little tender for a few days. You can manage it with an over-the-counter pain reliever and eating soft foods.
Are Dental Crowns Permanent?
Dental crowns are meant to provide a long-term solution, but they don't last forever. The average lifespan of a crown is about 10 to 15 years. However, many factors affect the duration of your results, like your oral hygiene routine, the materials used, and any bad habits. Your dentist in Fairfax will explain how long you can expect your restoration to last and what you can do to get the most from your investment, like brushing and flossing, visiting your dentist regularly, and keeping inedible objects out of your mouth.
Can Crowns Get Cavities?
Dental crowns aren't vulnerable to cavity-causing bacteria, but you should still follow good oral hygiene habits and limit your consumption of sugars. Plaque can build up where the crown meets the gum line, which can allow bacteria to gain access to your underlying tooth through small cracks that form in the dental cement over time. Decay underneath your restoration can go undetected until it turns into a big problem if you don't see your dentist regularly. You can promote a cavity-free smile by brushing twice daily and flossing every night. Limit your consumption of sugary foods and drinks. Don't forget to visit your dentist every 6 months for a cleaning and checkup.
Does Teeth Whitening Work on Dental Crowns?
Dental crowns are made of all-ceramic materials, which won't discolor with the correct care. Unfortunately, teeth whitening will not work on a dental crown because it isn't porous, like enamel. Your teeth can get whiter, but your crown will remain unchanged. Not to mention, whitening agents can weaken the bonding material holding your restoration in place. If you'd like to treat your natural teeth with a whitening system, your cosmetic dentist will create the personalized plan you need to ensure consistent results.
Can I Use My Dental Insurance for a Crown?
If your dental crown is medically necessary, like fixing a broken tooth, your insurance may cover some of the expense. You can use your benefits for your consultation and preliminary procedures. After meeting your annual deductible, your insurance may pay 50% to 80% of the expense until meeting your yearly limit. A member of our office will work on your behalf with your dental insurance to maximize your coverage.
Would you like to learn more about crowns and their cost? Get in touch with our practice today so we can answer all of your questions and get you on the road to a healthier smile.