Repair Teeth with Dental Crowns in Fairfax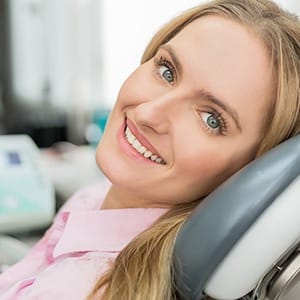 Dental crowns and fixed bridges are very common restorative procedures. A dental crown is a restoration that is affixed to a damaged tooth that is still sturdy in the gum line, while a dental bridge is used to replace one or more consecutively missing teeth. A dental crown or bridge in the front of the smile will likely be made of natural-looking porcelain, while those in the back of the mouth may consist of gold or metal alloys.
More About Dental Crowns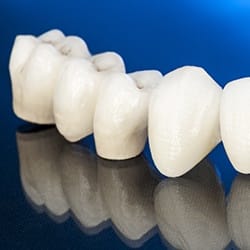 A dental crown can be used to:
Repair a large cavity
Fix a chipped or broken tooth
Hold together a weakened tooth
Cosmetically enhance an undersized or misshapen tooth
Complete a tooth that has been replaced by a dental implant
The procedure to get a crown typically involves two visits to our office, in which we'll remove any damaged portion of the enamel, shape the tooth to fit the crown, create an impression, send it to a lab, and then you'll return to have your final crown placed.
Fixed Bridge Basics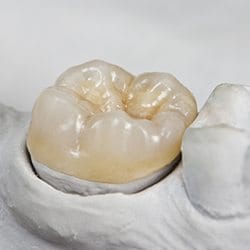 A dental bridge is made by attaching a prosthetic tooth (or teeth) to crowns placed on the teeth on either side of the gap in a patient's smile. They provide support for the new teeth, and if a patient doesn't have enough remaining healthy teeth to get a fixed bridge, we can create one using a dental implant.
With a bridge, we can:
Restore the smile's natural appearance
Even out the bite to protect the remaining teeth and gums
Prevent the remaining teeth from shifting out of place
Whether you need a crown or bridge to rebuild your smile, our team will work diligently to make sure you walk out of our office with a restoration that is strong, natural-looking, and can be trusted to stand the test of time.
To learn more about our restorative options and how we can use them to help you, contact us today.