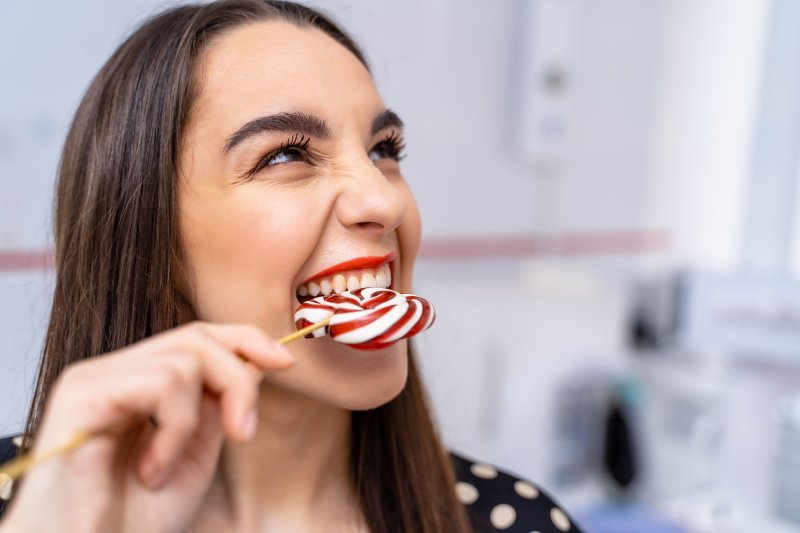 If you're a film buff, you know better than anyone that it's easier to enjoy a movie with a big bowl of buttery popcorn; but did you know that those fluffy little kernels can pose a health hazard for your mouth? Popcorn is notorious for having the potential to chip or crack your teeth, but it's not the only food you need to watch out for. Here are some of the other common foods associated with fractured teeth, and what to do if you find yourself with a chipped tooth.
What Foods Can Chip My Teeth?
There are a lot of foods out there that could chip or fracture your teeth if you aren't careful. Some of the common ones to watch out for include:
Popcorn (the un-popped kernels)
Corn on the cob
Nuts with hard outer shells (peanuts, pistachios, sunflower seeds, walnuts)
Hard candies (lollipops, jawbreakers)
Pits (from cherries, peaches, olives, etc.)
Bones (from chicken wings, fish, etc.)
Hard bread (pretzels, biscotti, etc.)
Nutrition bars that contain hard ingredients
Jerky from meats
Ice cubes
It isn't easy or reasonable to avoid every single item on this list. However, showing a little extra care and caution when enjoying these foods will go a long way. Always be sure to look before you bite into something, and always chew your food slowly and carefully to avoid any sudden injuries.
How Do I Address a Chipped Tooth?
If you're unable to resist these foods and you ultimately find yourself with a chipped tooth, there's no reason to panic—but a trip to the dentist is in your future. Be sure to immediately stop eating and call your dentist; if you continue eating or prolong treatment, you're increasing the risk of additional damage. Your dentist will ask how the tooth was fractured; be honest and tell them exactly what happened, so they're able to accurately assess and evaluate the situation.
If the injury extends below the gumline, it will need to be treated by your dentist immediately. But most minor chips and cracks aren't as urgent, and some of the pain can be remedied at home by over-the-counter painkillers, rinsing with warm water, and applying a cold compress.
Life's too short to not enjoy some of the awesome food that's out there; but if you're eating something that could chip your teeth, show extra caution. It can happen quickly and very unexpectedly; but a trip to the dentist is often all it takes to get back on track.
About the Practice
Fairfax Dental Group has proudly served families and patients in the Fairfax area for over 25 years. They offer an incredible variety of services including general, pediatric, cosmetic, restorative, and emergency dentistry, among others. The practice is led by the elite duo of Dr. Marjun Ayati and Dr. Brenda J. Young, who are both committed to providing high-quality, gentle dental care for all their patients. If you or a loved one is suffering from a chipped tooth and would like to schedule an appointment, please reach out through their website or by phone: (703) 560-6301.
Comments Off

on These Foods Can Easily Chip Your Teeth!