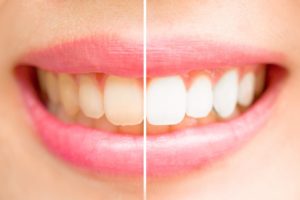 Do you have healthy teeth but still wish there was a way to get it looking whiter? Has aging caused your smile to become discolored, taking on a yellow, gray, or brown appearance? Is a boost all you need to feel just a bit more confident in your daily life? The power of Zoom! Whitening is a perfect solution to your smile's discoloration! That's why your dentist is excited to highlight it at her practice!
To learn how teeth whitening in Fairfax can benefit you, keep reading!
What is Zoom! Whitening?
PhilipsZoom! Whitening is a form of professional teeth whitening that's done exclusively in-office. By undergoing treatment, you can get a smile that is up to 8 shades whiter! The appointment for teeth whitening takes about an hour and a half, but the full whitening portion only takes 45 minutes. Considering how much whiter your smile can be, that's a pretty quick appointment!In-office teeth whitening in Fairfax works by first placing a rubber dam inside your mouth. This keeps your lips out of the way as the dentist applies a thin layer of gel along the gums, making sure it doesn't touch them. Once complete, she'll start the whitening process by exposing a low-UV light on your smile for about 15 minutes.After wiping the gel off, you'll get a chance to view your smile. If it's too your liking, congratulations! However, if you'd like to go a little further, she can repeat the process two more times for a total of 45 minutes.
Is the Procedure Safe?
Zoom! Whitening has gone through extensive clinical studies and research over the years to prove it's safe for patient use. Many dental offices and laboratories have tested it for possible side effects, with the only one being tooth sensitivity. For some patients, this sensitivity can occur, but only for a brief time after treatment. By the end of the day, any sensitivity should be gone, leaving behind only a beautiful smile.
Since the gel travels through enamel to reach the dentin layer underneath where stains lie, it doesn't erode or damage enamel in any way. If you have any concerns, your dentist will be more than happy to address them during your visit.
What are the Benefits?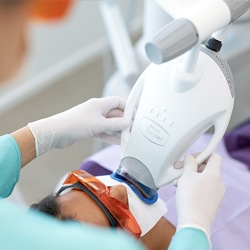 Other than being extremely effective at whitening teeth, Zoom! Whitening gets the job done quickly. If you're looking to boost your smile a few shades whiter, it's easy to complete in a single lunch break or while running your other errands.
Additionally, a bright white smile is often associated with having good oral health, so the chances of people finding you more attractive after teeth whitening are certainly higher. This should give you a healthy boost of self-confidence throughout your day.
If you're looking for a quick and safe way to look younger and improve your self-esteem, look no further than whitening from Zoom! Schedule an appointment with your dentist today to learn more and see if in-office treatment is right for you!
About the Authors
Dr. Brenda J. Young has over 30 years of experience practicing dentistry, while Dr. Marjun Ayati has been practicing since 1995. That means they've seen a lot of smiles walk through their practice doors. To learn more about whitening your smile in-office with your cosmetic dentist in Fairfax, don't hesitate to contact the practice through their website!
Comments Off

on Learn How Teeth Whitening Can Make Your Smile Brighter!