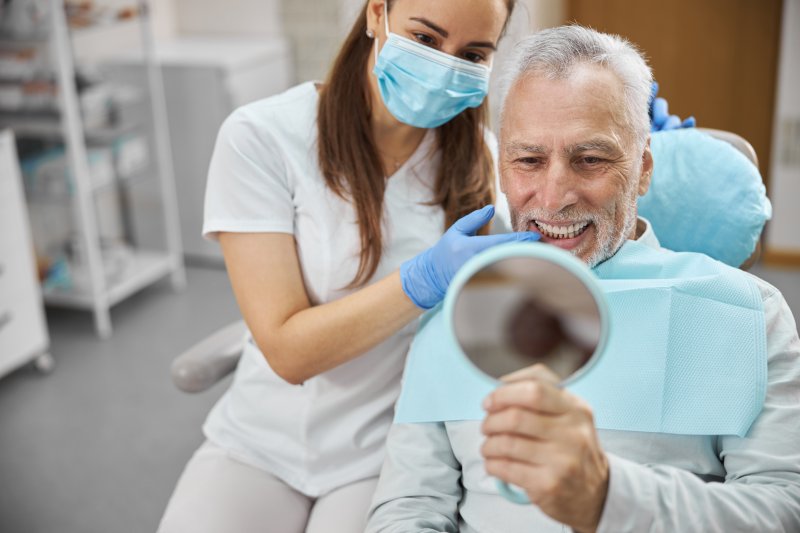 Compared to other restorations, dental implants are more lifelike. That's only natural – they fuse with your jaw and won't slip or fall. Still, this fact can prompt a question: will teeth whitening work with a dental implant? You might think the prosthetic can be bleached like a natural tooth. Ultimately, though, the truth is that implants can't be whitened. Your Fairfax dentist is here to explain why. So, here's why teeth whitening treatments don't work on dental implants.
Yes, Implants Can Stain
To be sure, implants can suffer from staining. This trait is something they share with natural tooth enamel.
Implants are only stain-resistant, not stain-proof. Excess consumption of dark-colored foods or drinks could affect their color. Especially notable among these products would be coffee, tea, wine, berries, and tomato sauce. Such items have chemicals and dark pigmentations that can stain enamel and porcelain surfaces. As such, you'll want to be careful of what you eat and drink with implants.
No, Implants Can't Be Whitened
Unfortunately, implants can't be brightened through teeth whitening. Their materials simply aren't compatible with the treatment.
You see, whitening works through a special bleaching gel. This substance seeps into porous enamel to remove stains. However, an implant's porcelain surface is nonporous; bleaching gel won't affect it. Therefore, a whitening treatment would whiten your natural teeth but not any implants. The resulting mismatch in color would then become distracting.
At best, you can remove light implant stains with good oral hygiene. They'll often come off with regular brushing, flossing, and dental visits. Deeper stains, though, are essentially permanent.
Talk to Your Dentist for Options
Luckily, an implant doesn't have to interfere with a fully-white smile. Your dentist has various ways to ensure your whole grin is evenly bright.
If you haven't gotten the implant yet, you could get the teeth whitening first. Your dentist would then place a prosthetic that matches your whitened smile's color. You'd then have seamless results.
Should you already have an implant, the dentist could remove the artificial tooth. They'd follow up with a high-quality whitening treatment. From there, the dentist would be ready to place a new prosthetic.
It'd be nice if teeth whitening worked with a dental implant. That said, talk to your dentist about how to get a grin that's restored and gleaming.
About the Practice
Fairfax Dental Group is based in Fairfax, VA. Led by Drs. Marjun Ayati and Brenda J. Young, our practice helps patients achieve their ideal smiles. To that end, we provide high-quality and comprehensive dentistry, including preventive, cosmetic, and restorative services. Naturally, our team offers the very best in both dental implant and teeth whitening options. For more information or to book a visit, you can reach us on our website or by phone at (703)-560-6301.
Comments Off

on Will Teeth Whitening Work if You Have a Dental Implant?