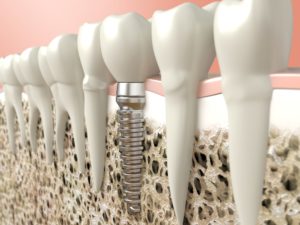 Bridges, partials, and dentures have been used for generations to replace missing teeth, but over 500,000 people every year are choosing another method. Dental implants have revolutionized tooth replacement because they treat both the roots and the crowns. This provides unmatched benefits not possible using any other prosthetic, but is a more advanced treatment right around the corner? Here are 5 reasons dental implants are the pinnacle of success.
1. Replaces the Entire Tooth
Traditional dental prosthetics only replace the portion of teeth visible above the gum line. A dental implant goes a step further because it replicates the entire tooth.
A titanium post is surgically placed into the jaw to serve as a new root. It will provide unmatched stability for an all-ceramic restoration that's attached using an abutment. This creates the next best thing to a natural tooth.
2. Jawbone Preservations
You can lose up to 25% of your jaw's density within the first year of missing a tooth because the bone isn't being stimulated by a root. Although bridges and dentures can replace lost teeth, they do nothing to stop bone loss.
Only dental implants offer jawbone preservation. The post will stimulate your bone, encouraging new growth, which allows your jaw to fuse to the implant through a process called osseointegration.
3. High Success Rate
Dental implants offer the most reliable results. They have over a 95% success rate and are proven to last for decades with the right aftercare, like brushing and flossing.
The risk of failure is rare but is most often caused by a preventable infection called peri-implantitis. Good oral hygiene at home and regular care from a dentist will ensure your investment lasts for 30 years or more.
4. Looks and Feels Natural
Traditional tooth placement relies on surrounding teeth or suction to stay in place. Although effective, bridges and dentures have their limitations.
Dental implants have the support of your jawbone, restoring 70% of your natural biting force. No one will know it isn't a real tooth. The implant post is hidden below your gum tissue, while your restoration is customized to match the color, size, and shape of your real teeth. You won't think twice before showing off your pearly whites.
5. Most Cost-Effective Solution
Dental implants cost more initially; however, they are the most affordable long-term. They can last for a lifetime, so you'll never have to budget for replacements.
Not to mention, a strong jawbone improves your oral health to preserve your natural smile. You'll be less likely to need expensive dental work down the road.
Dental implants are proven by decades of success. You can invest in predictable results to rebuild your smile.
About Dr. Brenda J. Young
Dr. Young has been practicing dentistry in Northern Virginia for 3 decades. She is an active member of several professional organizations, including the American Dental Association, the Virginia Dental Association, and the American College of Dentists. She provides the most up-to-date services to help you achieve your best smile. Request an appointment through our website or call (703) 560-6301.
Comments Off

on Are Dental Implants the Pinnacle of Success?