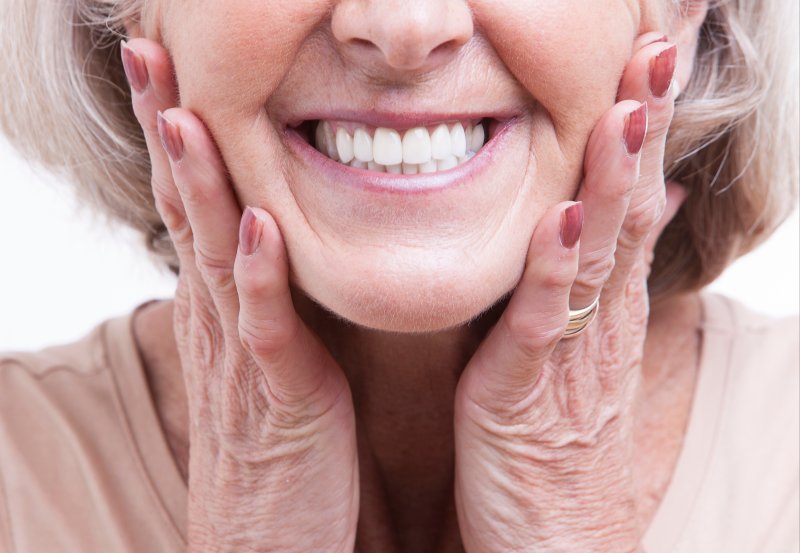 When you get a new set of dentures, you'll be pleased by how it feels to talk, chew, laugh, and smile again. One thing you might not expect, however, is how good it feels to have white teeth.
Your dentures will be white and beautiful the day you receive them, but you might see them discolor over time. If you want to keep them shining, here are a few ways you can do that.
How to Whiten Dentures.
Fortunately, there are quite a few ways to effectively whiten your dentures. At home, the simplest thing to do is to make sure that they're clean. Soaking them overnight in a non-abrasive dental cleaner can work wonders—these solutions have been clinically proven to melt away stains on dentures and reduce plaque buildup.
You can also talk to your dentist about a professional cleaning. These take only a few minutes, and they can dramatically improve the look and feel of your dentures. It's recommended that you get denture cleanings biannually unless you're told otherwise by your dentist.
How NOT to Whiten Dentures
While keeping your dentures shining can be simple, there are a few things you need to avoid. You may be tempted to use at-home whitening solutions or whitening toothpaste on your dentures, but the hydrogen peroxide that these often use might not be safe for your dentures.
Your dentures also aren't as hard as your natural teeth, making them more susceptible to scratches. That's why you should also avoid stiff toothbrushes and abrasive toothpaste.
Finally, using boiling water might sound like a good way to disinfect your dentures, but that's a bad idea. The heat can cause your prosthetic to warp, making them impossible to wear.
How to Prevent Stains
Dentures collect stains for the same reasons natural teeth do, so you can do all the things you would normally do to prevent discoloration. Avoid foods and drinks that can potentially leave stains behind like coffee, red wine, tomato sauce, and berries. If you have any of these, take a moment to rinse off your dentures and ensure that they stay nice and clean.
Keep these tips in mind, and your dentures should stay nice and white for a long time to come!
About Our Practice
Many patients expect that when they visit their dentist's office they'll be treated like a name and a file number. At Fairfax Dental Group, we want to move beyond those expectations. Our dental team will take the time to get to know you, and we'll work with you to not only repair your teeth, but also to improve how you feel in every area of your life.
If you have any questions about whitening your dentures, we can be reached at our website or by phone at (703) 560-6301.
Comments Off

on How to Whiten your Dentures