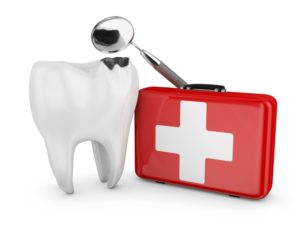 Emergencies are a part of life. You never know when something random can happen that needs immediate attention. Fortunately, there are things you can do to protect your oral health so you will be less likely to have to take a trip to your emergency dentist. Read on to learn four ways to keep your mouth in its best condition to decrease your chances of a dental emergency.
#1: Keep Up with Your Dental Visits
One excellent way to avoid a dental emergency is by attending your biannual checkups and cleanings with your dentist. In addition to keeping your smile beautiful, they will be able to assess your oral health and detect any issues that could cause you more problems down the line. They can provide any treatments to keep your mouth and gums in their best shape. This will significantly reduce your chances of future cavities, decay, and infections and keep your pearly whites healthy! One helpful way to follow through with this commitment is to make both appointments at one time so all you have to do is show up on the preset date.
#2: Maintain Good Oral Hygiene
Along with the help of your dentist, your daily oral hygiene habits are essential to preventing any future emergencies involving your mouth. This includes brushing your teeth for two minutes twice a day and flossing at least one time every 24 hours. These consistent practices will help remove debris, bacteria, and plaque from your teeth and gums, effectively avoiding the risk of further complications like cavities and gum disease.
#3: Watch Your Sugar Intake
While many people enjoy sweet treats, eating them too often can be detrimental to your oral health. Indulging in foods that are high in sugar on a regular basis can fuel harmful bacteria in your mouth, wearing down your enamel over time. If left untreated, this can cause tooth sensitivity and decay. Instead, try reaching for nutrient-rich snacks, like nuts and cheese, to keep your smile strong and healthy. You can always chew on a stick of sugar-free gum if you have a sweet craving!
#4: Protect Your Smile
If you lead an active lifestyle and play sports, then you might consider investing in an athletic mouthguard from your dentist. Their custom-made trays will protect your teeth from being accidentally dislodged or knocked out. These helpful dental pieces also will help protect your teeth if you suffer from bruxism (teeth clenching or grinding). Most of the time this occurs at night and can gradually weaken your enamel and wear down your pearly whites. This protective gear ensures that you are further protected from an unexpected dental mishap.
As you stay on top of your oral health with these helpful tips, you will be less likely to have a dental emergency and keep your smile whole and healthy for years to come!
About the Practice
Fairfax Dental Group is here to help you and your family with any dental emergency. We have two experienced dentists that offer a wide range of services to get you back on track to a healthy smile. With same-day appointments, as well as being on-call 24 hours a day, we offer a convenient way to tend to any dental problem that has occurred. To schedule an appointment, contact us through our website or call (703) 273-1443.
Comments Off

on 4 Essential Tips to Help Prevent a Dental Emergency