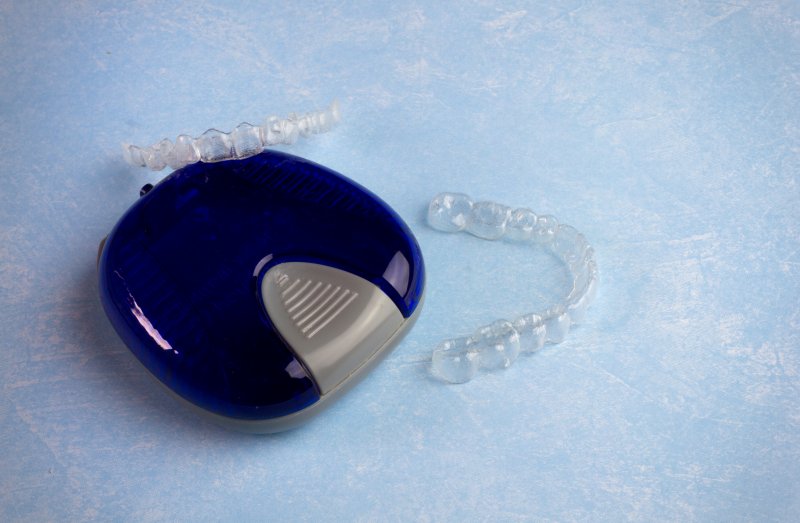 When it comes to travel, this time of year is the busiest there is. If you're going on a trip soon, it can be hard to balance enjoying your vacation with keeping up with your routines. If you're also undergoing your Invisalign treatment, you may wonder if you can relax during the holidays and still stay on track. Here are a few ways to make that easy.
#1: Prepare Beforehand
On a long flight or drive, it can be hard to keep up with your dental hygiene routine, especially if your toothbrush and floss have all been packed away. Preparing a travel brushing kit that you can keep on hand will make it easier to take care of your Invisalign. You can buy these off the shelf, or you can make your own with your favorite hygiene products. Ideally, these should contain a travel toothbrush, floss, and a little bit of mouthwash. If you'd like, you could also have a separate timer that tracks the amount of time you've had in your aligner. You could even put them in a pouch that matches your Invisalign case!
#2: Bring Extra Aligners
When you take your aligner out for every meal, it can be easy to accidentally leave it on an airplane, in a restaurant, or on a bathroom counter. If you aren't prepared, this can seriously throw you off track. That's why you should try and bring some extra aligners for your trip. That way, even if you forget your tray somewhere, you won't fall behind.
#3: Don't Be Afraid to Eat in Public
People love Invisalign because it's so innocuous. In most cases, no one will even be able to know that you're wearing the tray until you mention it. That might be why some people get nervous when it's time to take out their aligners to eat. Some people even skip meals because they don't like removing their aligners in public.
It's understandable to be nervous, but the fact is that taking out your aligner is incredibly fast. If you don't go out of your way to draw attention to yourself, no one is likely to notice. If you can't shake the feeling of being watched, you can try taking out and replacing your aligner in the bathroom; this will also give you an opportunity to clean it before you put it back in.
Invisalign trays are remarkably convenient, and keeping them clean isn't that difficult. You shouldn't let the fear of falling off track distract you this holiday season—with a little preparation, you won't have any problems.
About the Author
At Fairfax Dental Group, we want to provide all of our patients with dental services that keep their mouths both healthy and beautiful. We use state-of-the-art dental technology in all of our procedures, including our Invisalign treatments. Whether you're dealing with crooked teeth or bite problems, we have the knowledge necessary to fix your issue with Invisalign treatment. If you have any questions about Invisalign, we can be reached at our website or by phone at (703) 560-6301.
Comments Off

on 3 Helpful Tips for Traveling with Invisalign