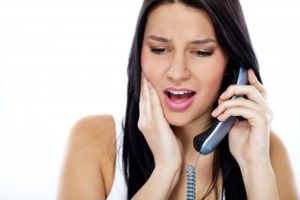 It seems like everyone experiences tooth pain at some point in their lives. Maybe you feel a flash of discomfort if you eat too many sweet things, or maybe you bit down too hard on a popcorn kernel. Fortunately, the vast majority of toothaches are caused by minor problems like cavities and enamel damage. That being said, your smile should not be causing you significant pain, and some toothaches can become fatal if left untreated. Read on to learn more and discover when you should call your emergency dentist!
Dental Abscesses: Potentially Fatal Tooth Pain
The hard shell of enamel around your teeth can't really "feel", so any time you feel dental discomfort, it's likely because the inner portion of your tooth is irritated. Problems like cavities, slight cracks, and enamel erosion expose the sensitive layer of dentin underneath your enamel, which causes pain when aggravated. However, untreated tooth decay or a severe injury can breach the dentin as well as the enamel to expose the pulp of your tooth, leaving it vulnerable to bacteria.
If bacteria reach the pulp of your tooth and infect it, you'll develop what's called a dental abscess. Since the pulp of your tooth doesn't work like the rest of your body, the infection won't go away or get better without professional help. Instead, leaving a dental abscess untreated can lead to severe swelling in the mouth that hinders breathing and swallowing. Additionally, the harmful bacteria could escape into your bloodstream and infect other parts of your body, such as your kidneys, lungs, or heart.
Symptoms of a Dental Abscess
No one wants to call an emergency dentist over a little thing that turns out to be nothing. However, a dental abscess needs to be treated as quickly as possible to prevent serious complications! So when should you call your emergency dentist? As soon as you notice any of these symptoms:
Stabbing pain when biting down
A small bump has appeared on the gums near the painful tooth
Pus, discharge, or swelling around a single tooth
Darkening or looseness of a single tooth
A painful tooth has suddenly gone numb
What to Do If Your Tooth Hurts
Should you experience any of the above symptoms, the first thing you should do is call your Fairfax emergency dentist. They'll likely schedule you for a same-day emergency appointment and walk you through how to address your toothache from home in the meantime. This will often involve rinsing your mouth out with warm saltwater or mouthwash to clear out bacteria. Then, you can use an ice pack or take over-the-counter pain relievers to manage the discomfort until you can reach your dentist. If there's a bump on your gums, don't pop it! Your dentist will see you right away to evaluate you, provide pain relief, and recommend a treatment to regain your healthy, pain-free smile.
About the Practice
At Fairfax Dental Group, we sincerely hope that you never experience a dental emergency, but we're ready and able to help if you do. We have a 24-hour call service for emergencies, and our team of two highly trained dentists offer same-day emergency appointments for patients in pain. If you have a dental abscess, we offer quick and comfortable root canal therapy as well as tooth extractions to help restore your oral health right away. If you are experiencing tooth pain, don't hesitate to contact us online or at (703) 560-6301.
Comments Off

on Can a Toothache Be Fatal?