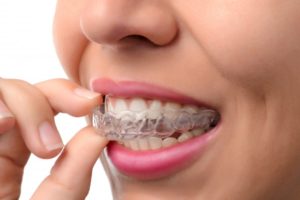 Most people are aware of Invisalign's proven track record of success when it comes to giving patients straighter smiles, but did you know that it can do more? Like traditional braces, Invisalign also has the power to correct bite problems, such as overbites, underbites, and others. If you have bite problems, you're likely looking for a solution. Keep reading to learn what your experts on Invisalign in Fairfax have to say about the different issues Invisalign can successfully amend.
The Bite-Fixing Capabilities of Invisalign
When you hear talk of Invisalign, the first thing you probably think of is crooked or misaligned teeth being straightened, but Invisalign can also be used to treat bite issues. It has a built-in device that is designed to fit your mouth's specific needs that helps realign your teeth and teach your jaw to posture itself differently over time. This is not a quick fix, and will require patience on your part, however, the end result will be worth every moment of waiting. Here is a list of the different bite issues that Invisalign can fix:
Overbite: An overbite is the most common bite issue that dentists treat. This occurs when the overlap between the upper and lower teeth is too large. While the top teeth are supposed to naturally overlay the bottom ones, both rows of teeth should be nearly flush when you smile. Invisalign works to tilt the teeth accordingly and retrain the jaw joints to align properly.
Underbite: As a converse to the overbite, this is exactly as it sounds. The bottom teeth and jaw joint jut out further than the upper row. With Invisalign, your dentist will use the same method that is used with an overbite, but the goal will be to pull the lower teeth and jaw joint back.
Open Bite: This is a much less common occurrence that only affects around 0.6% of the American population. It is when the outward tilt in the upper and lower rows of teeth causes them not to touch at all. If you are affected by this bite issue, your dentist will craft your trays to slowly tilt each row of teeth inward into alignment, closing the open gap between them.
Crossbite: A crossbite occurs when the upper row of teeth is misaligned in a way that causes them to fit inside of the row of lower teeth. Invisalign can help to tilt the teeth outward so that they rest appropriately just outside of the bottom row.
As you can see, Invisalign has many capabilities that go beyond straightening crooked teeth. If you have bite issues, and you're ready to start the journey toward correcting them, talk to your dentist about Invisalign!
About the Practice
Dr. Marjun Ayati and Dr. Brenda J. Young lead the team of experts at Fairfax Dental Group. They have built their practice on trust and long-lasting relationships with their patients. They feel it is their duty to ensure that everyone they care for can receive the smile of their dreams through the benefits of Invisalign. With years of experience in cosmetic dentistry, you can be sure you'll be in great hands with them. Are you ready to talk about transforming your smile? Schedule a consultation online, or call us at (703) 560-6301.
Comments Off

on Can Invisalign Fix Bite Problems?