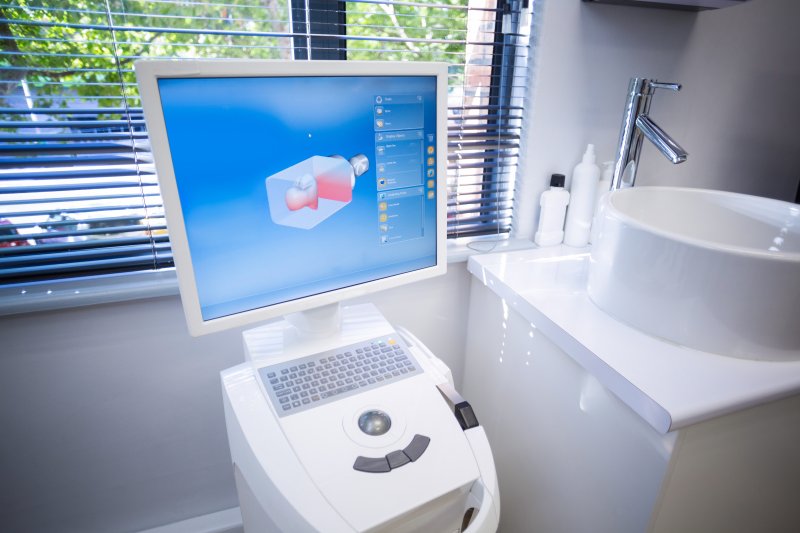 When preparing to undergo Invisalign in Fairfax, you want to make sure your clear aligners fit comfortably and go on to produce long-lasting results, right? To determine if you are making a worthwhile investment in your smile, it's helpful to know what kind of techniques and technologies your dentist will use along the way. With the iTero Element 3D Digital Scanner, you can expect a pleasant experience that results in a straighter, healthier smile. But what is it and how does it work? Read on to find out.
What is an iTero Element 3D Digital Scanner?
The iTero Element 3D Digital Scanner is an advanced piece of dental technology that allows your dentist to capture high-resolution images of your smile that ultimately create a 3D model of your smile. Using a handheld, pen-like device, it takes only minutes to use and replaces the former method of using cold, messy dental putty to capture a patient's impressions.
Not only does it produce better quality images, but it also provides dentists with more accurate details to better prepare a customized treatment plan.
How is it Used for Patients Seeking Invisalign Treatment?
Much like any other orthodontic treatment, Invisalign requires the use of impressions to ensure proper results are achieved. Clear aligners are created to guide teeth as they shift over time, eventually becoming permanently fixed in a new desired location. To ensure you have a pleasant, effective, and comfortable experience, the iTero machine in Fairfax is used to create clear braces that function correctly and fit appropriately.
The iTero scanner includes a simulator that allows you to view what your smile will look like when finished with Invisalign treatment. This particular function enables patients like yourself to see the worthwhile investment you are preparing to make in your smile.
Additional Procedures that Use the iTero Element 3D Digital Scanner
Apart from Invisalign, the iTero digital scanner is often used by dental professionals to assist in the planning process for individuals requiring dental crowns, porcelain veneers, or even dental implants. Because of its unique ability to produce higher-quality images and impressions, it proves much more beneficial to individuals seeking most restorative services.
This particular device allows dentists to readily share digital scans with specialists and third-party providers, ensuring the correct distribution of information, more effective communication, and desired results are achieved for the patient.
When choosing to straighten your smile with Invisalign, don't be afraid to ask your dentist about the technology used as part of the planning process. Those who are committed to providing the latest, most advanced technologies can ensure greater results that are worth your investment.
About the Author
Dr. Marjun Ayati and her colleague, Dr. Brenda Young, use the most advanced, modern dental technology to better assist in providing patients with greater accuracy and precision when preparing treatment plans. When treating with Invisalign, their iTero Element 3D Digital Scanner ensures the high-resolution images captured are used to create accurate models that go on to produce comfortable aligners that produce life-changing results. If you would like to learn more about the technology used to straighten smiles, contact us at (703) 560-6301.
Comments Off

on How the iTero Digital Scanner is Used to Ensure Successful Invisalign Treatment