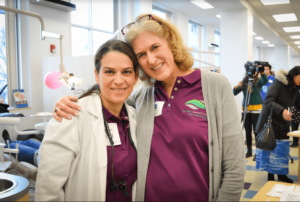 On Friday, Feb. 5th, 2018, Dr. Brenda J. Young and Dr. Marjun Ayati and their team at Fairfax Dental Group joined other dental community volunteer dentists, hygienists and dental assistants that provided more than 490 local children with $69K worth of dental care which included dental evaluations, prophylaxis (teeth polishing) and fluoride treatments as part of Give Kids a Smile©.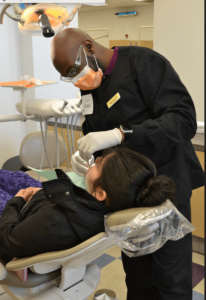 Nearly one in four children under the age of five already has cavities, according to the U.S. Centers for Disease Control and Prevention. Many children enrolled in Medicaid receive no dental services throughout the year.
Give Kids A Smile is held annually to:
Provide free, easily accessible dental services to qualifying individuals
Raise awareness of the epidemic of untreated dental disease occurring locally and nationally and create local public and private partnerships to increase access to oral health care to solve this crisis
The Medical Education Campus of Northern Virginia Community College opened its doors to local children from around Northern Virginia for the 2016 Give Kids A Smile© event. "We were delighted to be a part of the team that helped deliver vital dental care to children from our local community. We are committed to making dental care accessible to underserved children," says Dr. Ayati.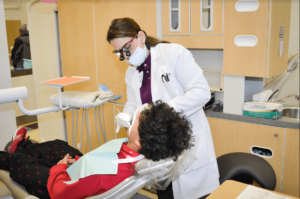 The annual program provides free dental services to children in underserved populations. The event, sponsored by the Northern Virginia Dental Society, provided free dental services to 490 at-risk preschoolers primarily from Arlington County. NOVA's Medical Education Campus hosts this event in February each year. "Preventive care is critical to maintaining good dental health and overall well-being, and we will continue to participate in efforts to help those who need it" says Dr. Young.
---
About Fairfax Dental Group
Dr. Brenda J. Young and Dr. Marjun Ayati of Fairfax Dental Group are leading general and cosmetic dentists serving Fairfax, Virginia and the greater DC metro area. Dr. Young and Dr. Ayati have gained a reputation of excellence in the dental community providing comprehensive dental care to their patients for over 25 years.
About Give Kids A Smile©
The ADA Foundation's Give Kids A Smile program was launched nationally in 2003 as a way for dentists to join with others in the community to provide dental services to underserved children. Each year, about 350,000 to 400,000 children benefit from more than 1,500 events, all because of the efforts of 40,000 or more annual volunteers nationwide. For more information about Give Kids A Smile events, visit adafoundation.org/givekidsasmile
Comments Off

on Fairfax Dental Group Joins With Other Local Dental Community Volunteers to Deliver $69K Worth Of Free Dental Care To Over 490 Children in Northern Virginia As Part of Give Kids A Smile© Event