Full & Partial Dentures – Fairfax, VA
Replacing Missing Teeth So You Can Eat and Speak With Ease Again
Missing several or all of your teeth has a drastic effect on your day-to-day life and can heavily impact your health. The American College of Prosthodontists approximates that about 40 million adults in the nation are missing all of their teeth, meaning you're not alone. Fortunately, there are high-quality tooth-replacement solutions that can help you regain the function and look of your smile and preserve your wellbeing. At Fairfax Dental Group, we use natural-looking, high-quality materials to craft full and partial dentures that are comfortable and beautiful. That way, you can eat and speak without having to struggle. To learn how our team of dental professionals can help replace your missing teeth in Fairfax, schedule a consultation by contacting our office today!
Full Dentures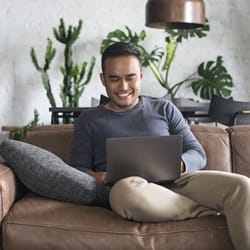 When our patients come to us and are missing an entire arch or all of their teeth, we often recommend full dentures in Fairfax. These are customized replacement teeth that are typically made from ceramic or porcelain and secured to a gum-colored acrylic base. They're completely removable, allowing patients to take them out before they go to bed in order to rest their mouth and gums. This feature makes them easier to clean and sanitize. Traditional dentures are also able to securely stay in your mouth using natural suction and denture adhesive, which allows you to comfortably and confidently let your smile show.
Partial Dentures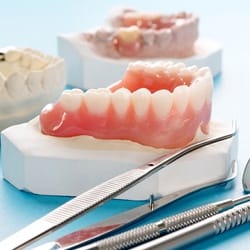 For our patients who are missing several teeth in an arch but not all of them, we'll likely recommend removable partial dentures in Fairfax instead. These allow you to preserve your remaining natural teeth while still restoring the gaps in that arch. The replacement teeth are attached to a customized base that can be made of metal or gum-colored acrylic and is made to be discreet. The foundation secures your replacement teeth, restoring your ability to eat and speak with ease.
Implant-Retained Dentures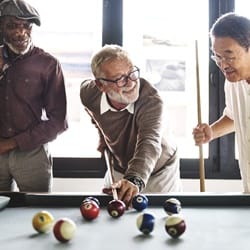 Our patients who are looking for a longer-lasting denture that restores the entire structure of missing teeth, dental implants in Fairfax are a modern restorative procedure with a variety of unique benefits. They consist of titanium implant posts that are surgically placed below your gum to replace the missing roots of your tooth to prevent jawbone deterioration. Attached to these posts are custom-crafted dentures, which remain securely in place without the use of natural suction or adhesive.
Maintenance Tips to Help Your Dentures Last Longer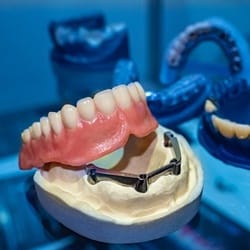 Even though your dentures can't develop cavities, it's incredibly important to regularly clean and care for them. With routine maintenance, your replacement teeth can last anywhere from seven to 15 years. Here are some tips to help keep your dentures clean and avoid damaging them:
Place a cloth on the bathroom counter to set your dentures down on while you're cleaning them. This will prevent them from sliding off and potentially breaking or fracturing when they hit the ground.
Clean your dentures using a denture toothbrush and denture cleaner every day.
Store your dentures in a cup of room temperature water or denture-soaking solution every night to make sure they hold their shape.
For partial dentures, it's important to continue brushing and flossing your remaining natural teeth to keep them healthy.
If you have any questions or concerns involving replacing your missing teeth in Fairfax or caring for your dentures, don't hesitate to contact our office today. Our team would be more than happy to help restore your smile with functional and beautiful full or partial dentures!