Dental Services Near Merrifield, VA
All-Inclusive Care Designed with Your Smile in Mind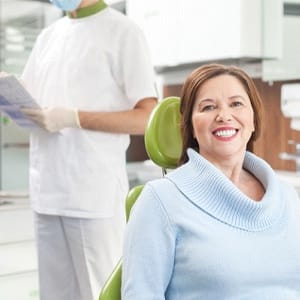 When looking for a dentist near Merrifield, VA, it's understandable that you want someone who has the knowledge, training, and expertise to provide a breadth of services in one location. Driving all over town shouldn't be required, which is why the team at Fairfax Dental Group is pleased to offer all-inclusive care under one roof. From general checkups and cleanings to dental implants and emergency dentistry, we've got you covered. Drs. Brenda Young and Marjun Ayati are here to ensure your smile receives the attention it deserves in a safe, warm, and welcoming environment.
Dental Checkups and Cleanings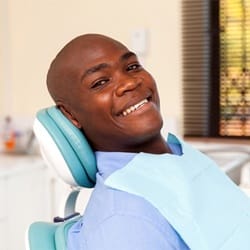 Six-month dental checkups and cleanings is the recommended timeframe to maintain optimal oral health year-round. In combination with good oral hygiene habits practiced at home, you can better protect yourself from decay and gum disease. By allowing our dental team near Merrifield to examine your teeth and gums for signs of cavities, periodontal disease, oral cancer, and misalignment, as well as clear away any built-up plaque and tartar, we can mitigate the potential for serious oral health problems and keep your smile right on track.
Cosmetic Dentistry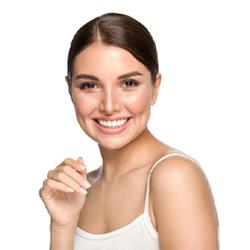 Believing your smile looks good is important. Not only will it give you greater confidence, but it can help you make a better first impression when meeting others. If chips, cracks, stains, discoloration, gapped teeth, or a minor misalignment are keeping you from embracing new opportunities, let us help with one of our many cosmetic dentistry services. Whether it is teeth whitening to remove stubborn stains or gum recontouring to create an even appearance, we've got the technology, equipment, and experience to deliver long-lasting, life-changing results.
Invisalign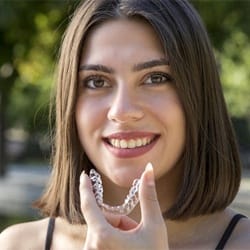 A crooked or misaligned smile can leave you feeling self-conscious and at risk for decay, gum disease, and even temporomandibular joint disorder (TMD). As an adult, you may not fancy the idea of traditional braces but fortunately, with Invisalign, you can see dramatic results in less time and without bringing attention to your teeth during treatment. Using clear, plastic aligners, you can easily straighten your teeth and avoid compromising your daily appearance. In a period of 12-18 months, you'll enjoy a healthier, more beautiful smile that offers more confidence than ever before.
Veneers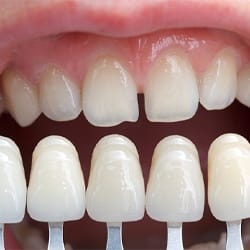 Once believed to be a cosmetic solution only attainable by the rich and famous, veneers are quickly becoming one of the most popular options for any individual looking to transform their smile. These thin, shell coverings easily conceal cracks, chips, stains, minor gaps, and minor misalignment issues to create a natural, comfortable, and beautiful aesthetic. They're custom-made according to the size, shape, and color you desire, and they can be placed on a few or all your teeth. This extremely versatile cosmetic solution will last a decade or more with proper care, but you'll want to make sure you're 100% sure of your decision, as they are permanent.
Dental Implants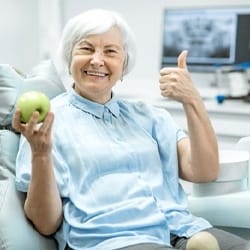 Dental implants are considered to be the gold standard for tooth replacement. Our implants are made from titanium and are designed to fuse with the bone and surrounding tissue to create a strong, stable foundation for your customized restoration. Whether you are replacing, one, multiple, or all your natural teeth, dental implants near Merrifield are a great solution for anyone looking for a permanent solution that offers greater functionality, a stronger bite force, and a smile that can last a lifetime with proper maintenance.
Emergency Dentistry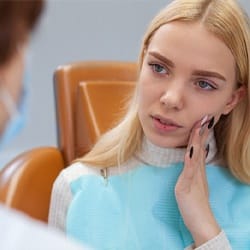 Suddenly faced with a severe toothache? Accidentally knock out a tooth while playing football? Discover your crown fell off while eating your favorite treat? These common dental accidents can be easily remedied with the help of our emergency dentist near Merrifield. Our team will work to get you in as quickly as possible once you alert us to the situation. Should you face a serious injury, don't wait to seek help. We're here for you when you need it most!