Missing Multiple Teeth – Fairfax, VA
Bridging the Gap for a Healthier Smile
If you are missing multiple teeth in Fairfax, you're probably wondering which tooth replacement solution is best. The team at Fairfax Dental Group can help you decide by first examining your oral and facial structures and recommending viable treatments based on your preferences and jawbone density. If the bone proves strong enough to support dental implants, it is possible that you can opt to receive an implant-retained bridge. Similar to a regular fixed bridge, this type of restoration is secured to the tops of implants, which are surgically placed into your jawbone. Contact our office today to learn more about this unique solution and how you can get started.
Non-Implant Tooth Replacement Options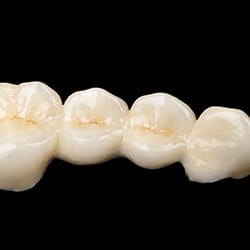 It is possible to replace your missing teeth with a non-implant solution. Depending on which option suits your needs, you can choose from one of the following:
Crown & Bridge: A crown and bridge restoration fuses three or more dental crowns to create what is referred to as a bridge. This fixed restoration is then placed over two healthy teeth that exist on either side of the gap along your arch. These teeth must be filed down and "prepped" to ensure a comfortable and proper fit.
Partial Dentures: If you are missing teeth along an arch, but they're not consecutive, you can choose to have a partial denture put into place. Using metal clasps or clips, this gum-colored, acrylic prosthetic fills in the gaps of your smile and works similarly to a puzzle piece.
Full Dentures: If you are missing all your teeth along the top or bottom row, you can choose to have a full denture made to restore your smile. Made from the same materials as a partial denture, your natural suction will help to hold it in place. However, you can choose to purchase a dental adhesive should you prefer additional security.
The Dental Implant Process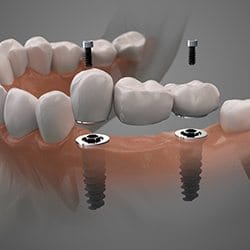 The first step in the dental implant process is to undergo a consultation with Dr. Brenda Young or Dr. Marjun Ayati. Once they determine if you are a qualified candidate, they will take impressions of your oral cavity and send them to a dental lab where technicians will begin to craft your customized restoration. During the process of placement, two or more dental implants will be put into place, creating the foundation for your restoration. It will take between 3 and 6 months to fully heal and ensure the implants are fused with the bone and surrounding tissue. Once you finished with the recovery phase of treatment, you will return to have your metal abutments and customized implant bridge secured into place.
Benefits of Implant-Retained Dental Prosthetics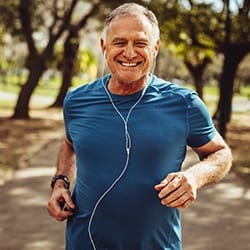 When receiving dental implants in Fairfax, you will notice a dramatic difference in your smile. You will also enjoy many great benefits that you simply cannot achieve with any other type of tooth replacement. Some of these benefits include:
Better oral health
Continued stimulation of your jawbone, preventing facial changes
Natural teeth remain in place and will not shift out of alignment
Easy to clean restoration
A longer-lasting restoration that is designed to remain in place for decades with proper care
No chance of decay
Improved functionality