How Dental Implants Work – Fairfax, VA
Four Steps For a Repaired Smile
Getting dental implants in Fairfax to replace your missing teeth may sound daunting, but by the end of the process, you'll be grateful you did. Whether you need to replace a single tooth or an entire arch of teeth, this modern restorative procedure can completely transform your smile and improve your everyday life by making it easy to speak and eat again. Once you're ready to begin, learn how dental implants work in Fairfax, VA on this page and be sure to contact our dental office to schedule a consultation with Dr. Marjun Ayati.
Initial Dental Implant Consultation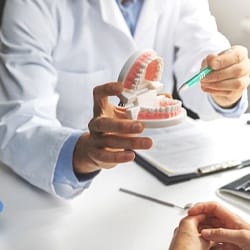 During your initial consultation, Dr. Ayati will take the time to thoroughly examine your mouth and facial structure to determine if you're a good candidate for the dental implant procedure. Using digital imaging, we'll capture pictures of your jawbone and oral structure, allowing us to see if the implants will be able to properly fuse with your jawbone and support your restorations. After informing you of all of your options, we'll create a customized treatment timeline and let you know whether you need preparatory procedures, how much the procedure will cost, and how long it will take before you can enjoy your new smile.
Dental Implant Surgery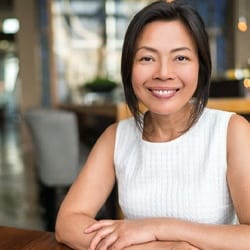 Dr. Ayati is a member of the American Society of Implant & Reconstructive Dentistry. This means that she is dedicated to performing high-quality and precise surgical and restorative dental procedures and has achieved advanced training and education to do so. This means that your dental implant surgery will take place under our roof, meaning you won't have to worry about the hassle of scheduling the procedure with a new surgeon and a team that you're unfamiliar with.
The surgery is fairly straightforward and depending on how many implants you need placed will determine how long it will take. Dr. Ayati will make a small incision in the gums to place the implants underneath. After the procedure is over, she'll make sure that the implants are protected as you undergo your healing process.
Dental Implant Osseointegration & Abutment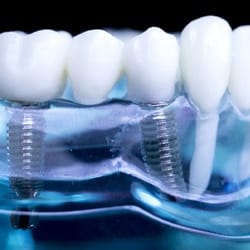 As your gums heal after the surgery, your implants will naturally fuse with your jawbone through a process called osseointegration. This will provide a strong and stable base for your restorations to be attached to. After this process is complete, we'll call you in for your next appointment, where we will secure metal connector pieces called abutments to your implants. These will hold your prosthetics in place.
Placement of Dental Implant Restorations
As soon as we receive your customized denture, crown, or bridge, we'll call you in for your final appointment to attach them to your dental implants. After this appointment, your remodeled smile will be complete!