Meet Fairfax Periodontist Dr. Eugenia Prokopets
Eugenia Prokopets, DDS, MSD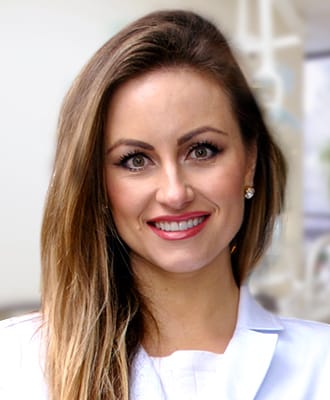 Dr. Prokopets is originally from Poltava, Ukraine. She came to the United States at a young age and grew up in Scottsdale, AZ. As a fourth-generation female dentist in her family, she saw the impact that dentistry could have on a person's health and wellbeing from early on. It didn't take long for her to decide that she wanted to dedicate her life to becoming an exceptional dental provider. She completed her Doctor of Dental Surgery at Marquette University before training at the one of the most prestigious and advanced hospitals in the country: Columbia University-New York Presbyterian Hospital, where she became well-versed in general anesthesia, emergency medicine, and oral surgery.
Dr. Prokopets' desire to focus on dental implants led her to complete her Master's in Periodontics and Implant Dentistry at Louisiana State University. She is trained in all aspects of implantology, including bone grafting, sinus elevation, microsurgery, and full mouth rehabilitation. She is also certified in laser dentistry, which includes the use of lasers for ulcer treatment, gum recontouring, and periodontal therapy. She is Board Certified in periodontology and dental implant surgery.
Dr. Prokopets is a Diplomate of the American Board of Periodontology and a proud member of the DC Dental Society, Southern Maryland Dental Society, American Academy of Periodontology, Louisiana Society of Periodontists, Western Society of Periodontists, International Congress of Oral Implantologists, American Dental Association, and Word Clinical Laser and Imagining Institute (Associate Fellowship).
In her free time, Dr. Prokopets is passionate about health and fitness. You can find her doing yoga, running, biking, meeting new people around Washington, DC, trying new restaurants, and participating in community outreach programs.