Zoom! Teeth Whitening – Fairfax, VA
Effective Treatment for Beautiful Results
How do you feel about the appearance of your smile? Did you know that about 80% of Americans wish they had whiter teeth? It's no wonder why there are so many whitening products available. However, these in-store products often leave people with uneven and lackluster results. Thankfully, we offer professional Zoom! teeth whitening in Fairfax, VA to give patients beautiful and noticeable effects in a matter of minutes. Keep reading to see how our in-office whitening service works and the ways you can benefit from it.
What is Zoom! Teeth Whitening?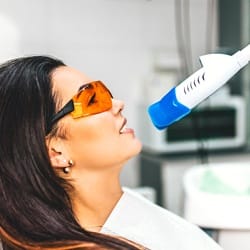 At Fairfax Dental Group, we offer Zoom! teeth whitening because it's not only effective, but it's safe and quick as well. First, we will apply an extra strong yet gentle professional bleaching gel to your smile. Then, we'll use a special heating lamp to penetrate the surface of your enamel, which helps to erase tough stains. This also makes the process incredibly fast, allowing patients to leave our dental office with a smile that is up to 8 shades brighter in about 45 minutes! While we do offer a take-home whitening kit, this treatment is especially popular for patients who want a dramatic change in the shortest amount of time.
The Benefits of Zoom! Teeth Whitening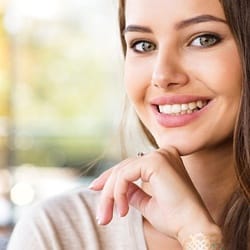 We offer Zoom! in-office teeth whitening because it brings our patients a wide range of advantages that they can't receive with other services, including:
Strength: Zoom! teeth whitening can penetrate your enamel to help erase stains that are beneath the surface.
Speed: With this modern technology, patients can receive a smile that is a completely different shade in less than an hour!
Comfort: Other whitening treatments can cause pain and discomfort. Zoom! teeth whitening causes little-to-no sensitivity for patients.
Results: Receiving Zoom! teeth whitening will ensure that your results are even and lasting.
Are You a Candidate for Zoom! Teeth Whitening?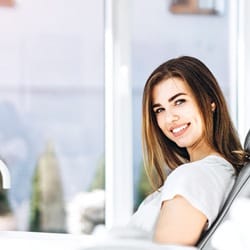 If it sounds like you could benefit from Zoom! teeth whitening, then you may be wondering whether or not this service is right for you. The best way to know for sure is to schedule a consultation with one of our skilled dentists. They will carefully check the condition of your oral health before recommending the proper treatment plan. Candidates for our in-office whitening typically:
Have yellow, stained, or discolored teeth
Have healthy gums
Have healthy dental structure
Are over the age of 16
Aren't pregnant
Don't have sensitive teeth or allergies
Additionally, if you have a lot of restorative dentistry like fillings, crowns, and more, you may not be a good candidate for Zoom! whitening. However, the only way to know with certainty is to schedule an appointment with your cosmetic dentist in Fairfax.